Product Inspection Systems
Our range of state of the art product inspection equipment helps reliably detect contaminated and off-spec products, and reject them from your production lines to protect your brand and customers.
Industrial metal detectors and metal detection systems can safely detect and reject metal contamination from production lines to help manufacturers achieve compliance, minimize risk of product recalls, and reduce production downtime. Metal detection systems are available for a range of food, non-food, and pharmaceutical applications. Our portfolio includes tunnel and throat metal detectors, gravity fall, pipeline, pharmaceutical, and conveyorized metal detection systems.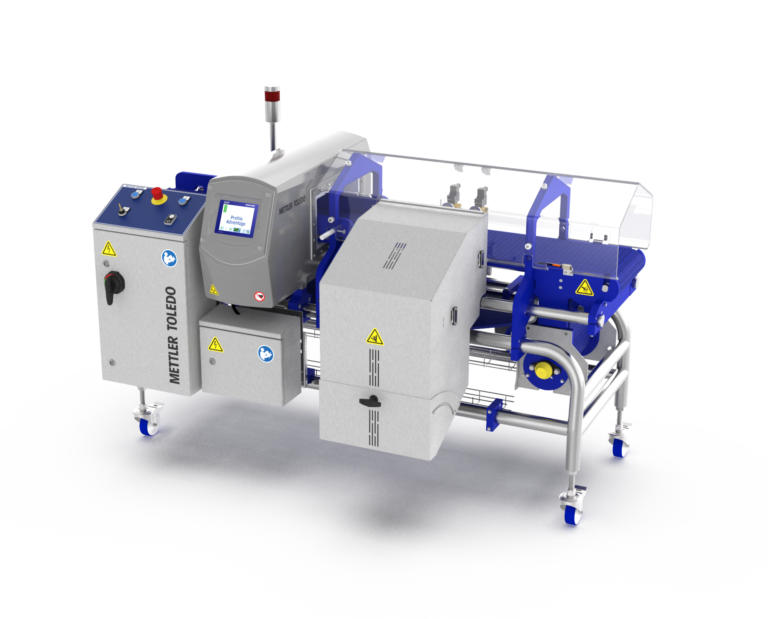 Conveyorized Metal Detectors
Conveyorized systems can be built for both dry and harsh washdown environments with designs suitable for packaged product or bulk flow products.  Our portfolio offers a broad selection of metal detector head technologies, frequency choices, belting options, rejection mechanisms, data collection and connectivity, and more.
More resources at bottom of page.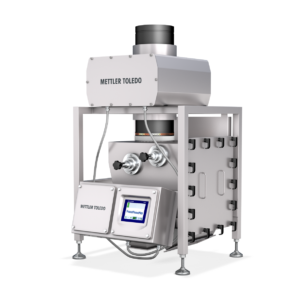 Gravity - Free Fall Metal Detectors
Gravity systems are for bulk, dry, free flowing products, in flight.  Zero metal-free-zone head technology allows for installation into tight installation spaces, like vertical form fill seal applications.  Systems can come integrated with fully automatic rejection systems with reject verification packages.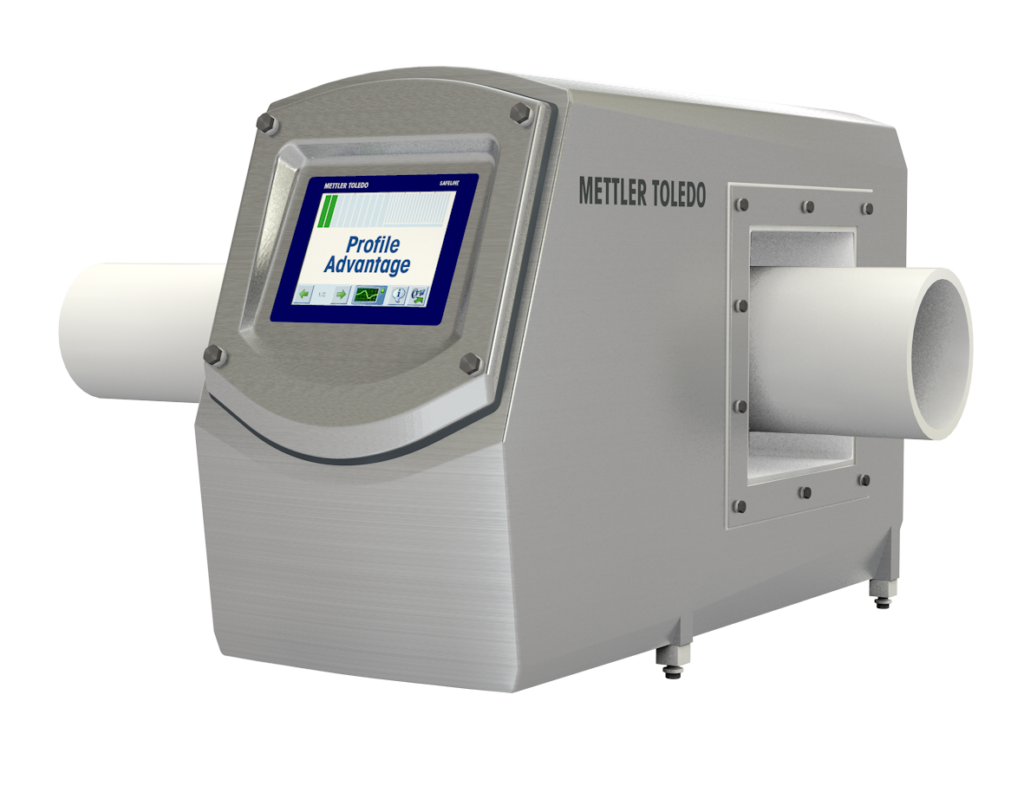 Pipeline systems are for pumped liquids, slurries and pastes.  Multi-simultaneous frequency technology is recommended to reduce the effect of conductive, challenging products.  An assortment of automated rejection valves are available depending on the product viscosity and characteristics.
X-ray inspection systems are specifically designed to detect unwanted physical contaminants within food and pharmaceutical products regardless of their shape or location. X-ray machines placed early in the production line ensure contaminants can be removed at the source before further value is added, reducing food waste and saving costs.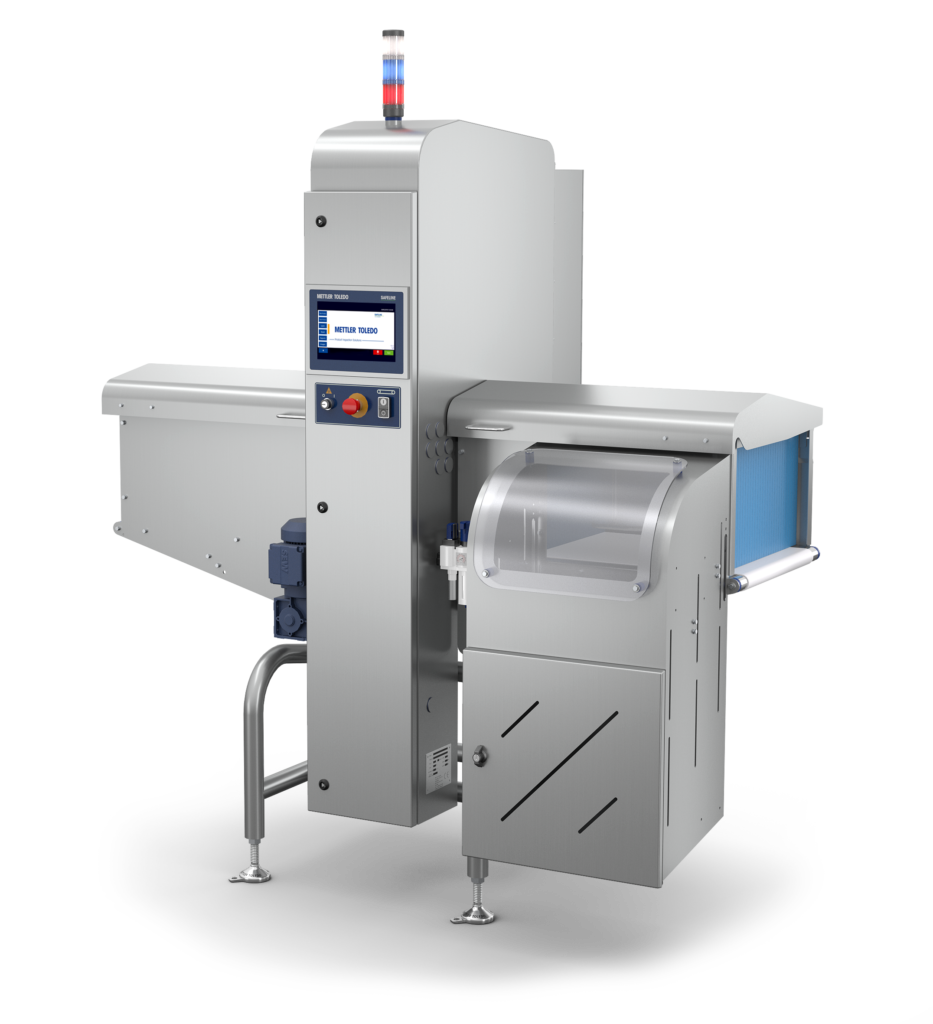 An x-ray beam is generated from the top and penetrates down through the product.  These systems can be designed for both packaged or bulk flow products, and handle harsh washdown environments up to IP69.  Our systems can handle single or multi-lane applications.  In addition to detection of dense contaminants in products, our software can also compute mass and find missing objects within a package.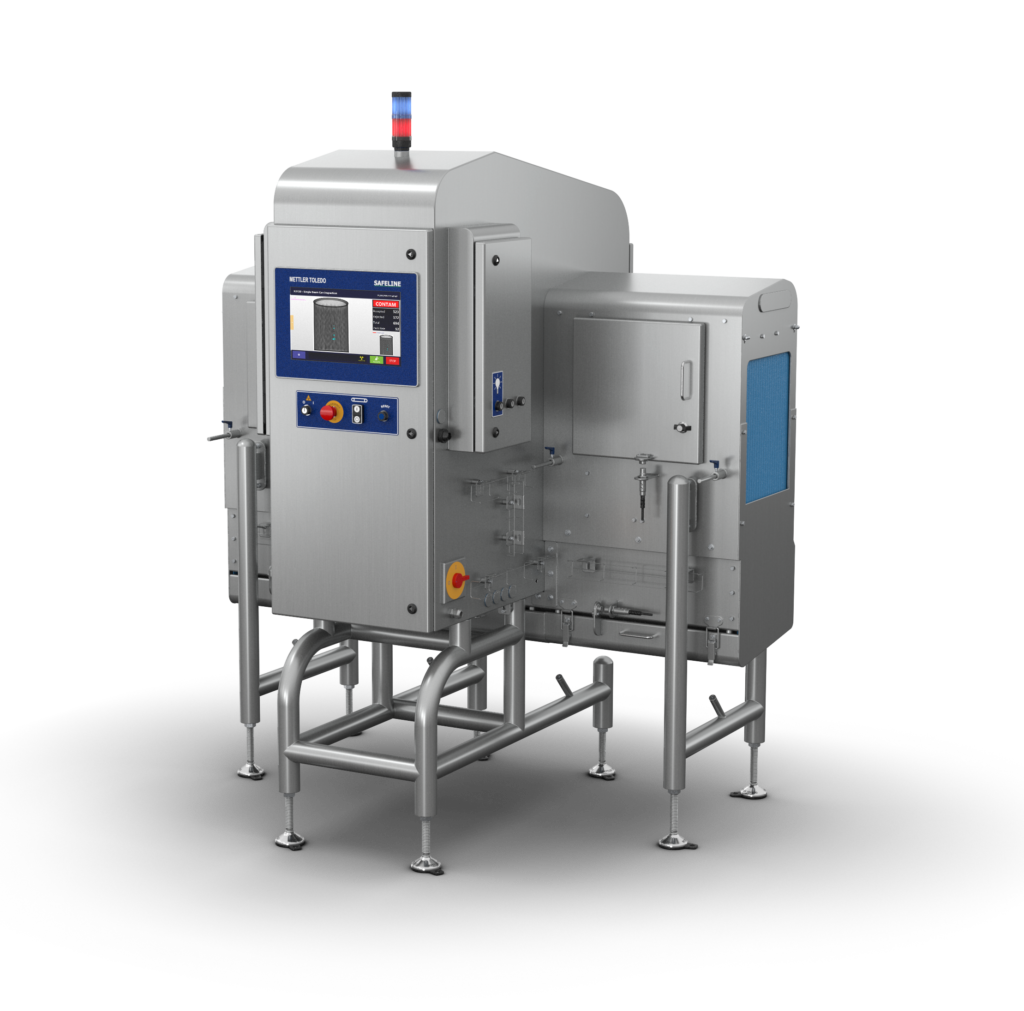 An x-ray beam or beams are generated from the side and penetrate across the product.  Designed for taller product like cans, glass jars, bottles, cartons, cups, doypacks and more.  Specialized systems are available for glass-in-glass detection. Our systems can inspect up to 1000 products per minute (depending on product dimensions), ensuring future-proof inspection capabilities can be achieved if throughput rates need to be increased.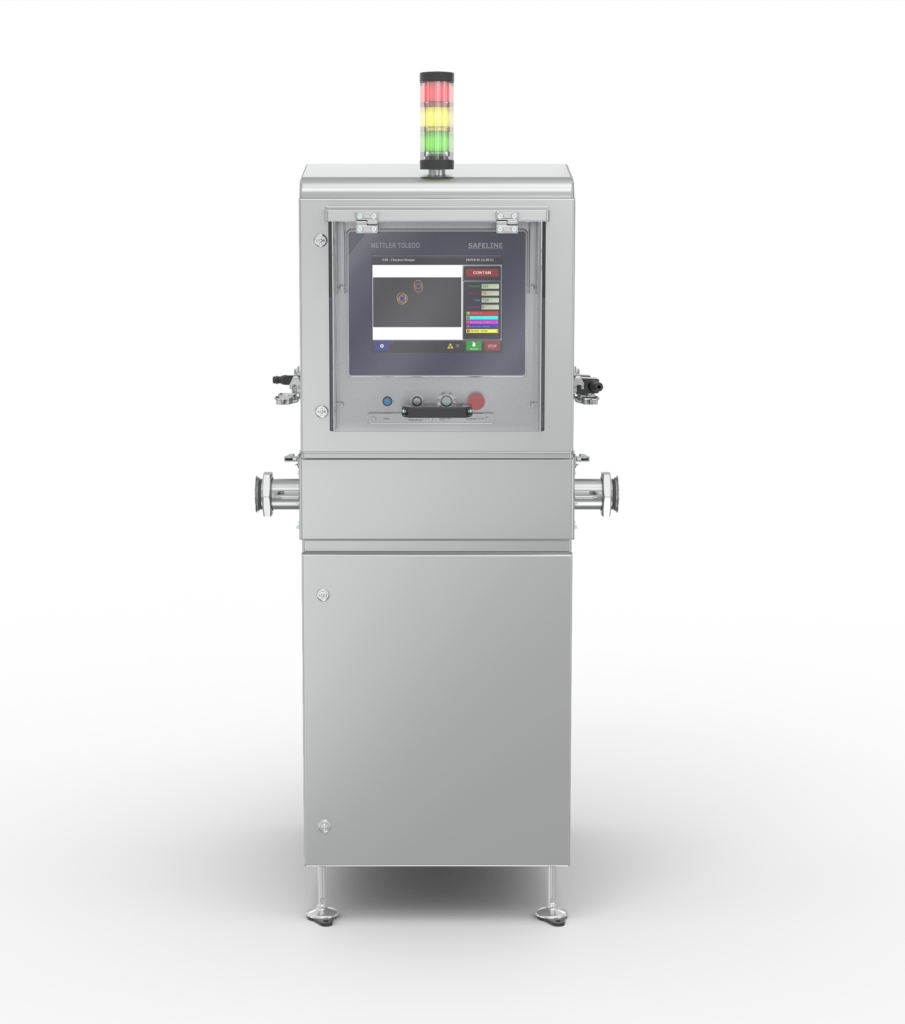 Specialized pipeline x-ray detection systems for pumped liquids, slurries and pastes such as ice cream, jam, yogurt, minced meat, poultry, etc. The class-leading hygienic design follows GMP, NFS and EHEDG principles, with IP69 as the standard and exceptional CIP (clean in place) features. The system can inspect up to 14 tons of pumped product per hour, and automatic calibration can be performed in less than 20 seconds, which maximizes uptime.
MID certified dynamic checkweighing solutions for compliance with weights & measures regulations and quality control in industries such as meat, poultry, seafood, pharmaceutical, cosmetic, ready meals, and baby food production.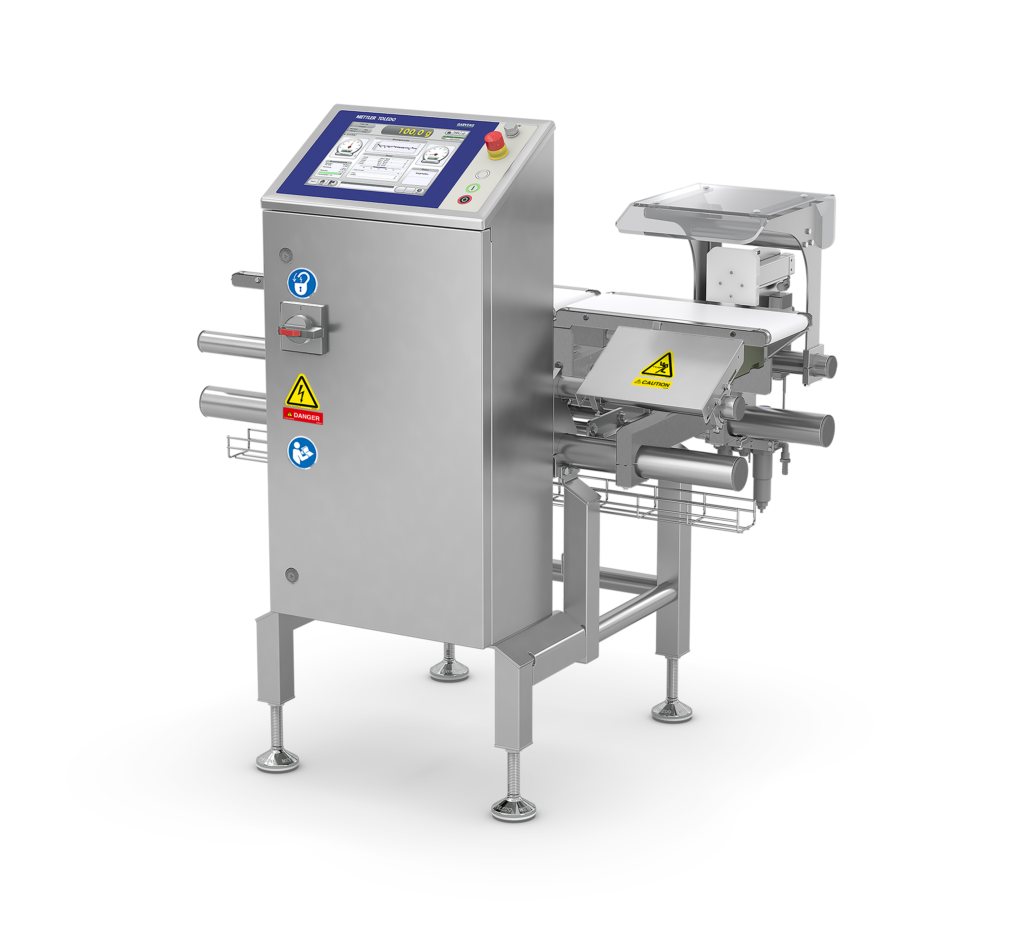 Comprehensive line of dynamic checkweighers for weighing products under 10kg in-motion.  Assortment of statistical process data and feedback control options available.  Designs suited up to harsh wash-down environments.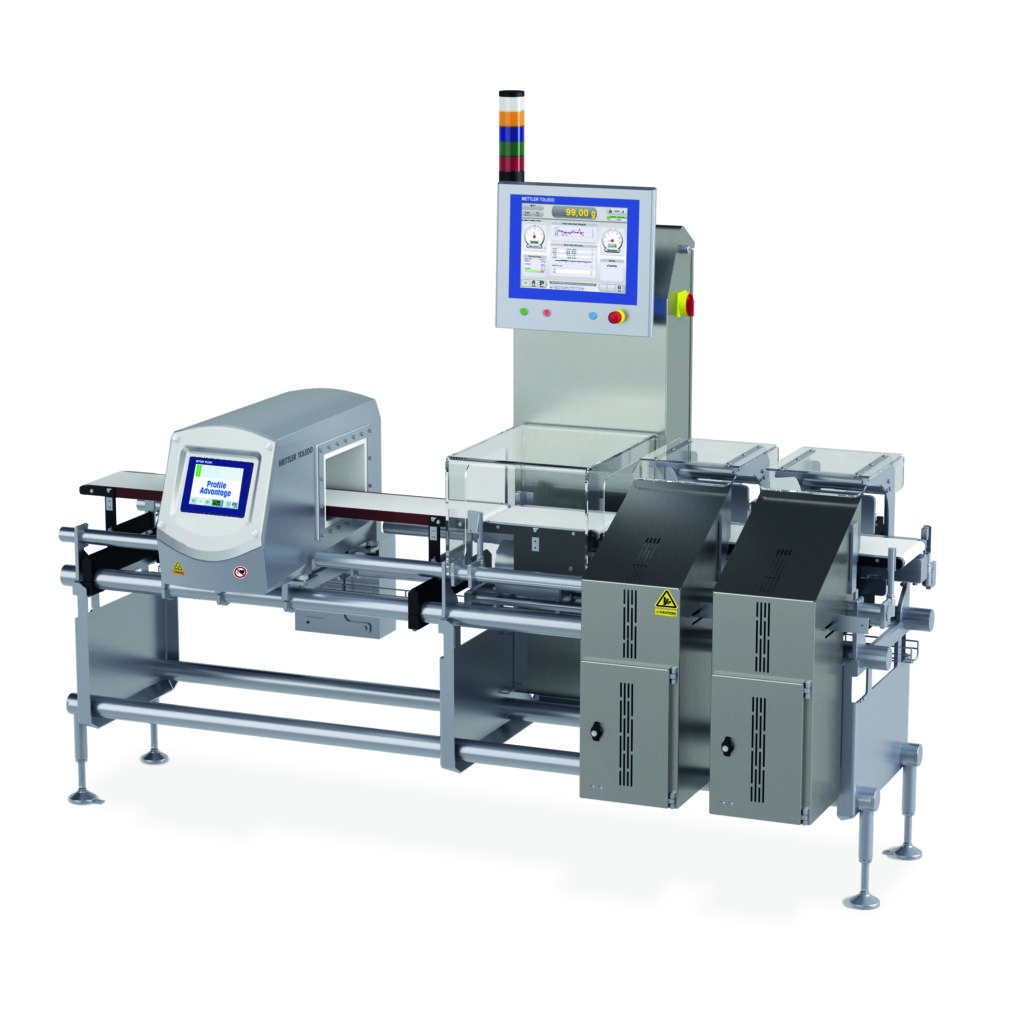 Combination Checkweighers
Checkweighing systems incorporating one or more additional inspection technologies including metal detection, x-ray, and vision.  Integrated rejection systems for dedicated product defect type.
More resources at bottom of page.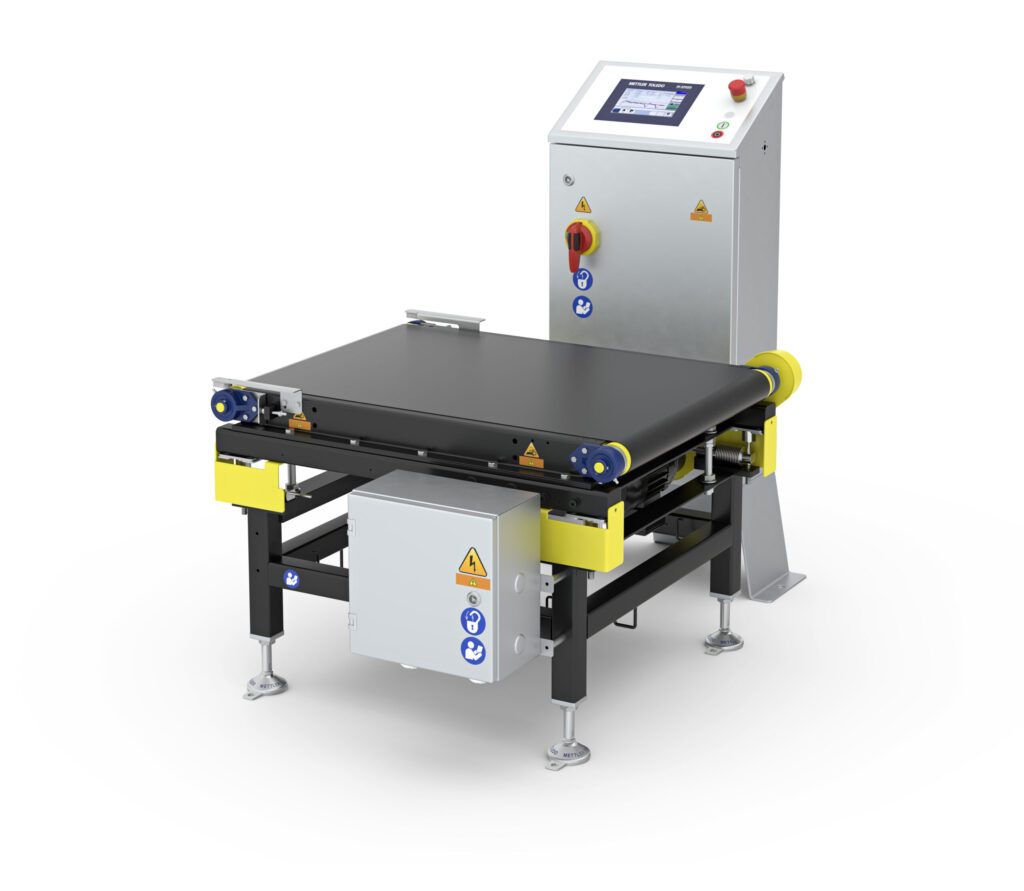 Case & Large Pack Weighers
Case scales for products over 10kg.  Commonly used at the end of package lines, or in distribution centers.  Checkweighers can be incorporated in customer line PLCs and SCADA systems.
Vision Inspection Systems
Mettler Toledo vision inspection systems for automated quality control of product labeling, information, and packaging in industries such as cosmetics, baby food, petroleum, and pharmaceutical production. Vision systems also detect irregularities, debris, functional flaws, and printing errors on product packaging removing them from the production line.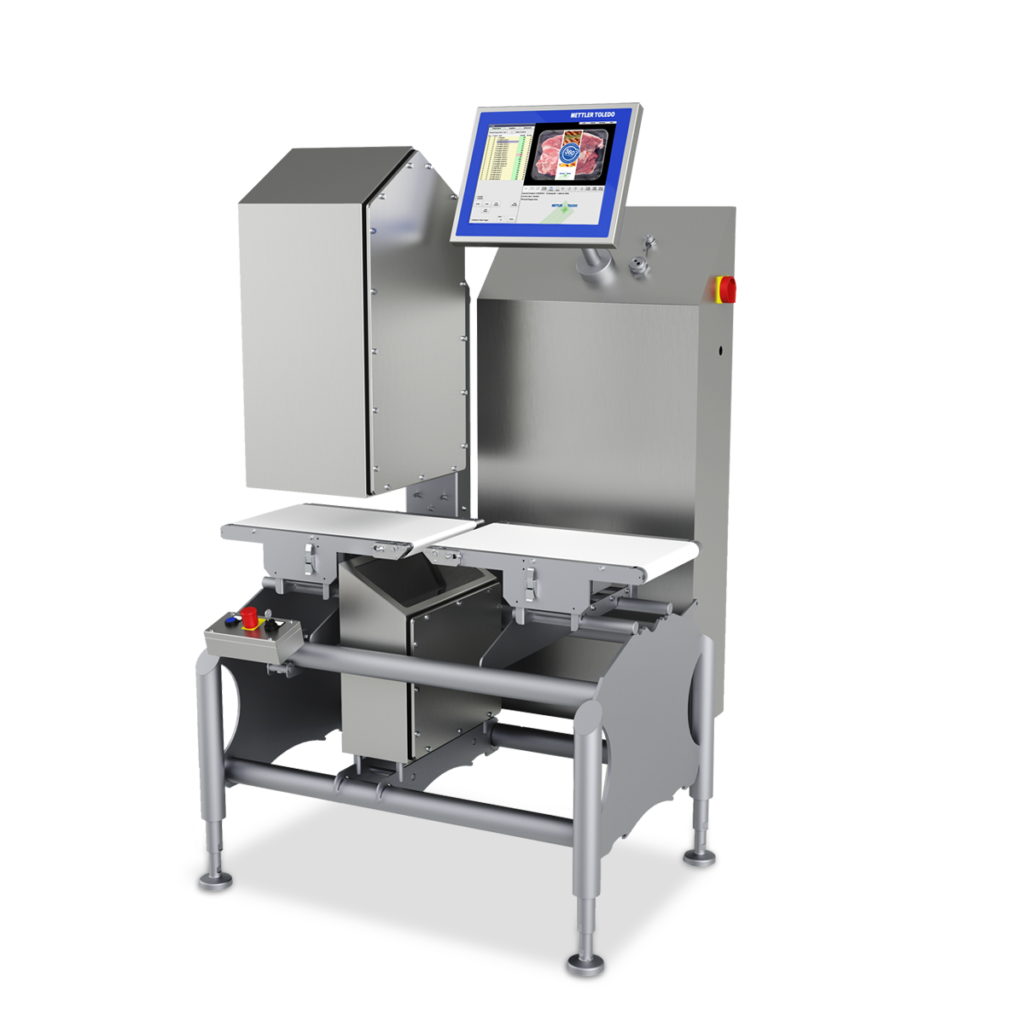 The system uses a line scan camera to perform inspections on the top and bottom of a package simultaneously without additional product handling requirements.  Option to inspect package seals for foreign debris, eliminating the risk of contamination caused by poor sealing.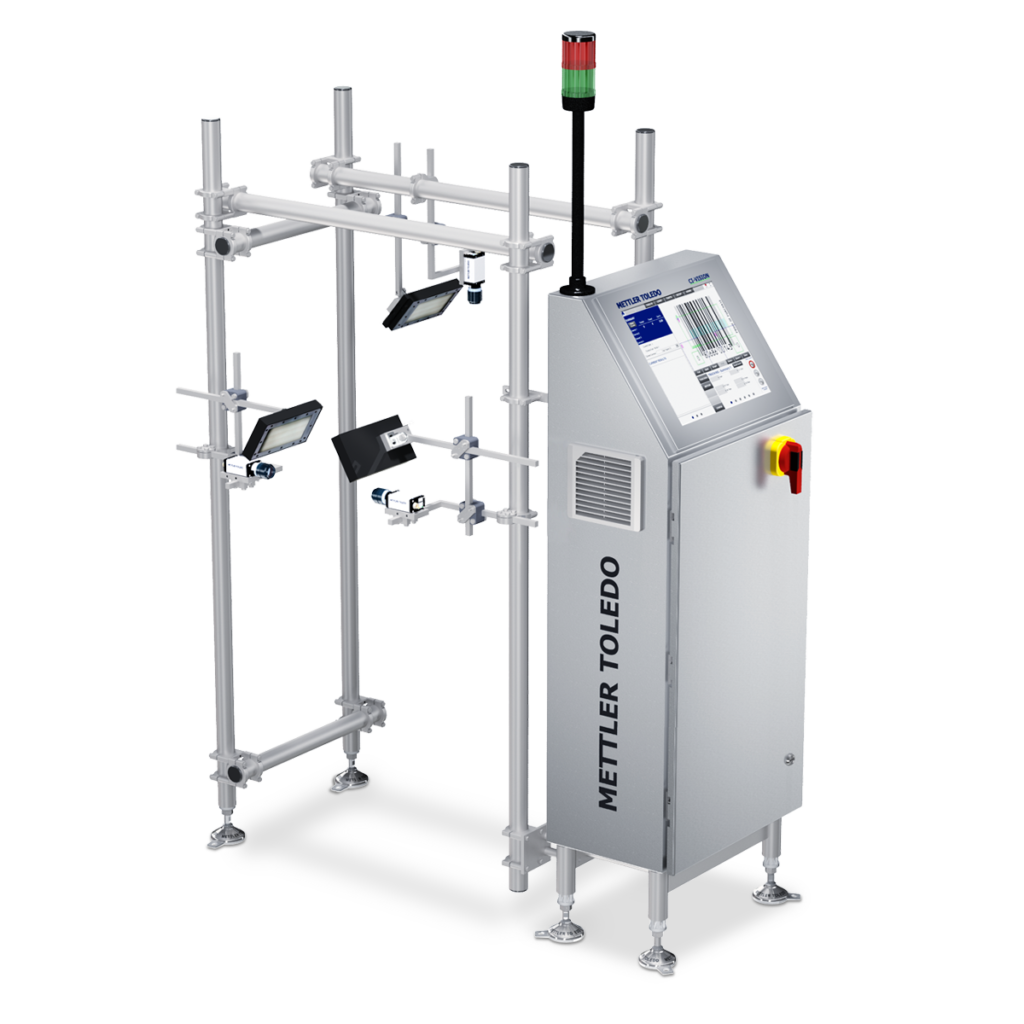 Flexible machine vision inspection systems for label, print and packaging applications with an expandable design supporting the addition of future inspection applications.  Single camera or multi-camera systems to perform multiple inspections at a single station.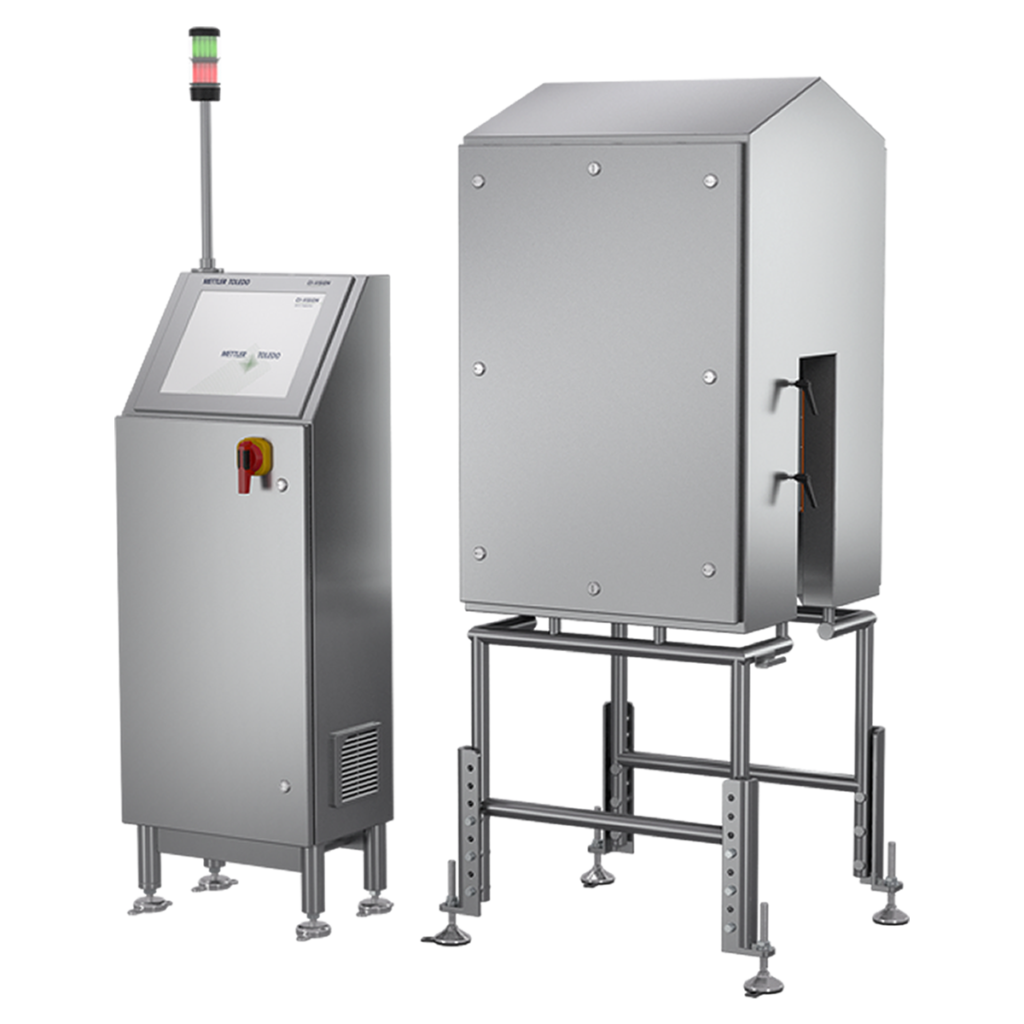 Round Product Vision Systems
Label and print verification for round, un-oriented products providing a full 360 degree view of product label and packaging.  The design puts 6 cameras into a slim package, allowing the system to fit on crowded production lines.
Fill Level and Leak Inspection Systems
TapTone manufactures a broad range of leak, vacuum, and pressure sensors designed to test flexible and rigid plastic, metal, and glass containers.  Our systems use a variety of technologies to determine the relative vacuum or pressure of a container or to determine if there is a leak present.  We inspect a wide range of products such as yogurt, soups, sauces, juices, coffee, baby food, beer, soft drinks, dressings, and more.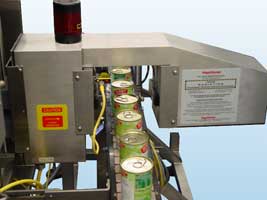 Uses low energy X-ray technology to inspect steel, aluminum, plastic and glass containers for proper fill level.  The system can be configured to detect underfilled and overfilled containers. The sensor mounts on a remote variable height stand and requires no modifications to the existing production conveyor.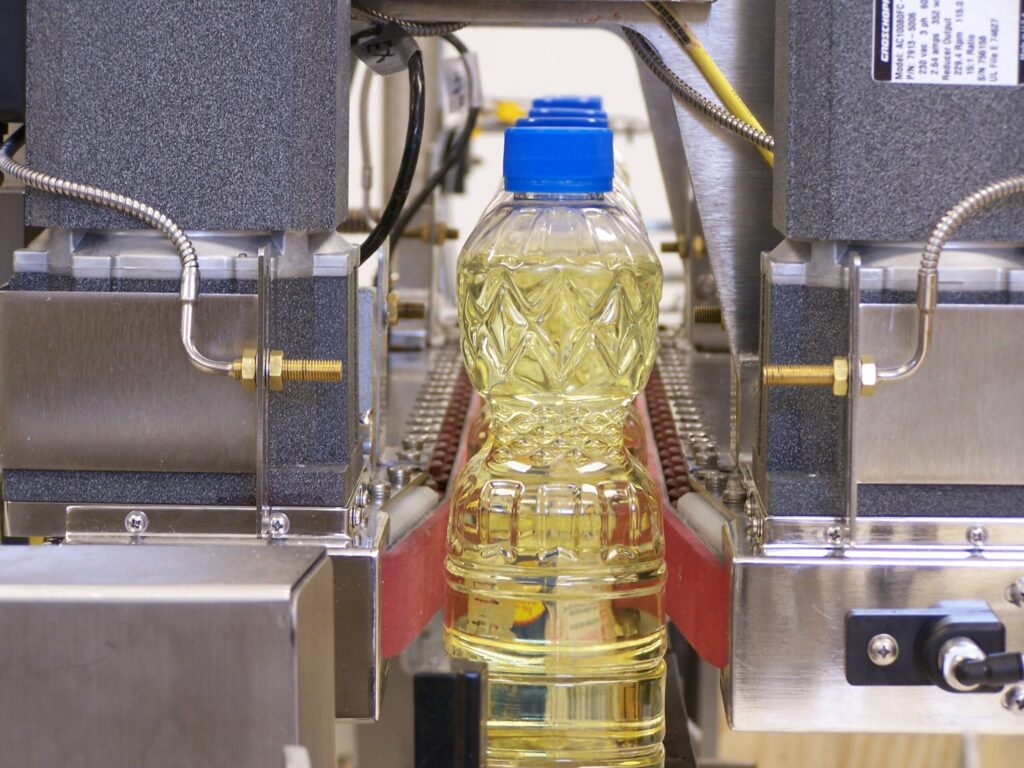 Systems are designed to inspect a wide variety of flexible containers for micro leaks.   Our technology learns the normal amount of pressure or vacuum inside of a package, and can reject a package with pressure or vacuum outside those limits.  Equipment is designed for harsh environments. When combined with optional sensors, this system will also perform fill level inspection, cap inspection and label detection.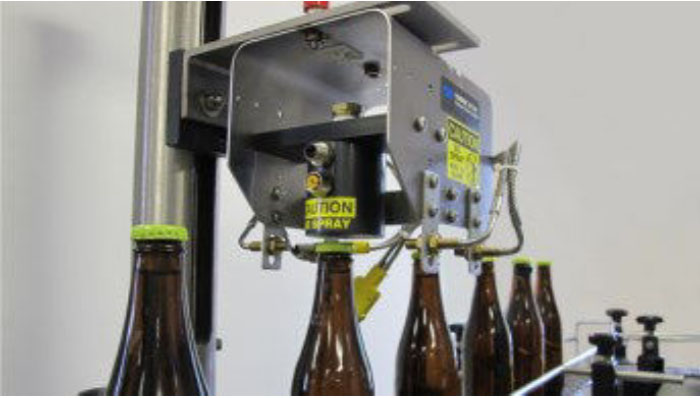 Acoustic technology measures pressure or vacuum in containers with metal closures that do not have a measurable lid deflection. The sensor applies a "tap" to the top of each container lid using an electromagnetic pulse, exciting the closure. The lid vibrates at a natural resonant frequency "tone" based on internal pressure or vacuum.  The system calculates the frequency of the "tone" for that lid which is then compared to user set limits.  Containers with a frequency outside these limits are rejected.
Track and Trace Serialization Solutions
Serialization solutions enabling easy tractability and tracking of individual product packages. Track and Trace legislation is primarily concerned with the pharmaceutical industry.  METTLER TOLEDO solutions are built to ensure complete compliance with global pharmaceutical standards. In addition, our solutions support other aggregation regulations and industry standards such as the CRISTAL guidelines for agrochemicals.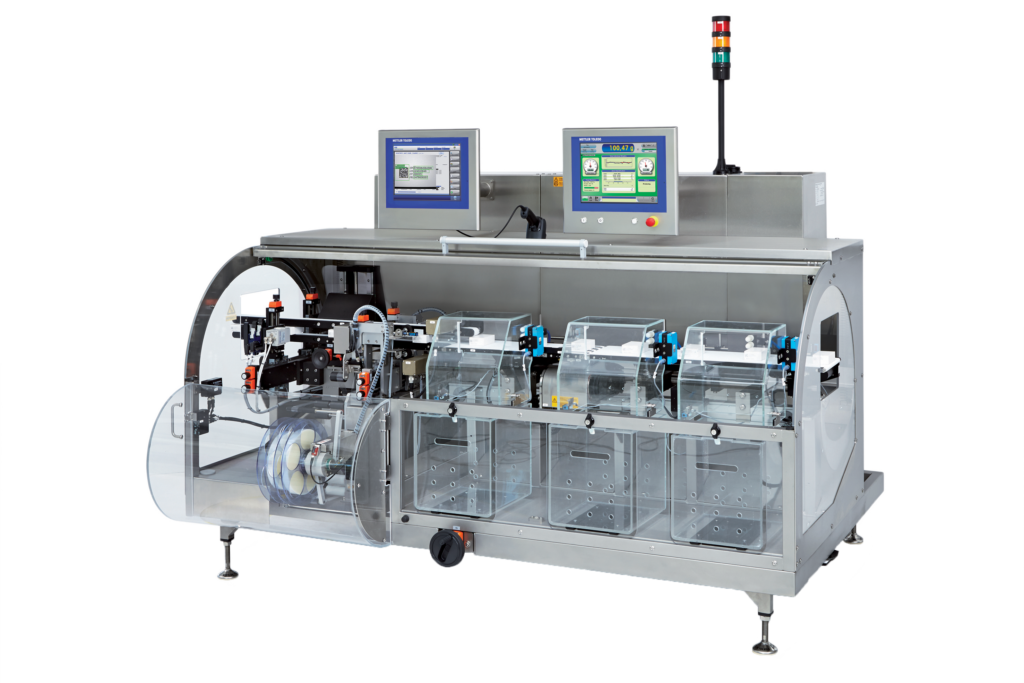 A high quality advanced inspection solution integrating four processes in one compact system: the XS2 MV TE checkweighing and marking system combines ink jet printing and vision verification with highly accurate in-motion weighing and tamper evident sealing to ensure global traceability and assist fraud protection for highest process safety in pharmaceutical industry.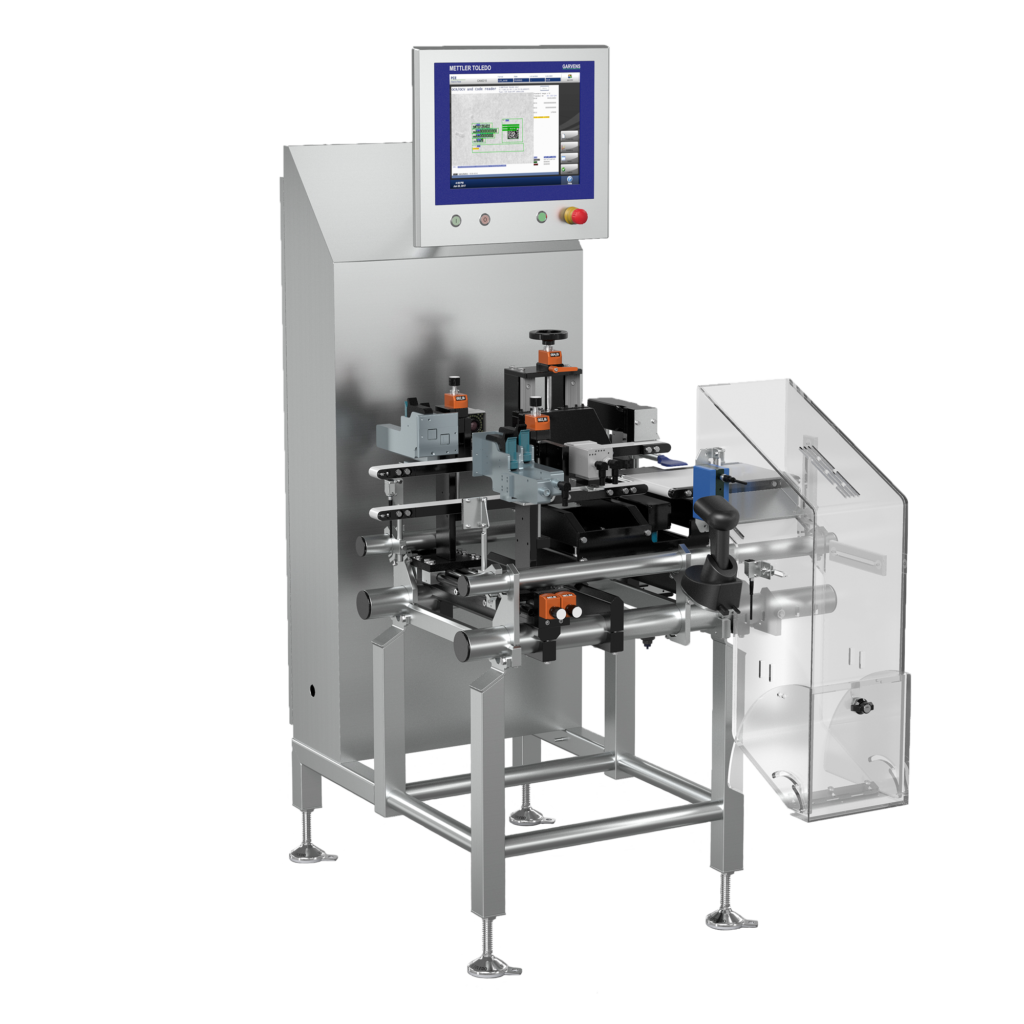 Compact, fully integrated systems for marking and verification of pharmaceutical Track & Trace products. Top and bottom belting is used to ensure consistent material handling throughout machine ensuring the best possible print and inspection quality.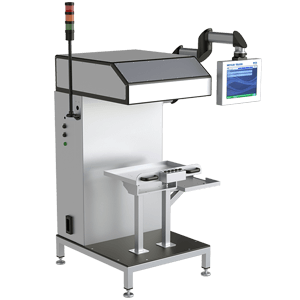 Individual cartons can be collected into bundles, cases, pallets and even shipping containers, allowing for maximum visibility of product as it moves along the supply chain. Movement of each product is recorded from its creation on the production line, through to the warehouse of a wholesaler, and eventually the point of sale – such as a pharmacy or hospital.
Product Inspection Resources
White Papers, Application Notes, & Spec Sheets
White Papers & Guides
Application Notes
Spec Sheets & Brochures