Milling and Dry Granulation
Our equipment lines include globally recognized brand names such as the Fitzmill and the Comil. We provide integrated milling and granulation systems to improve the quality, size, shape and flowability of your materials.
The Fitzmill is an efficient means of processing high capacities and consistently achieving reliable particle size distributions with D90s ranging from 60 to 2,000 micron, which is most common. They're used extensively throughout the pharmaceutical, nutraceutical, food, and chemical industries,  Our mills have been in use for over 100 years processing a wide range of products such as antibiotics, battery mixes, cheeses, citric acid, freeze dried coffee, flame retardants, laundry powders, spices, pigments, sugar, starch and more.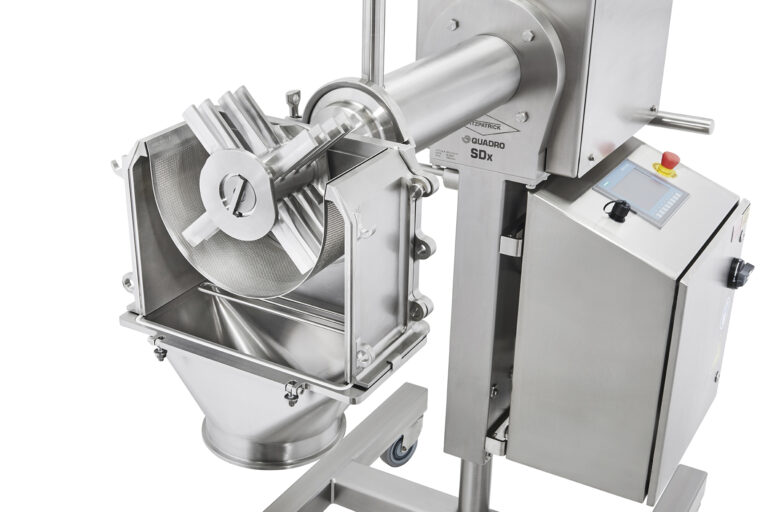 Hammermill models can offer a wide range of particle size reduction targets using the ability to change or adjust rotor profiles, RPM and screen selection.  Powder quality is protected as our mills are designed to reduce retention rates and heat damage during the milling process.  Well-cared-for powders mean better flowing materials and improved system efficiency. Fast and cGMP compliant cleaning can be accomplished due to the cantilevered rotor design and mono-block construction.  All components can be totally dismantled and taken offline for thorough cleaning.
More resources at bottom of page.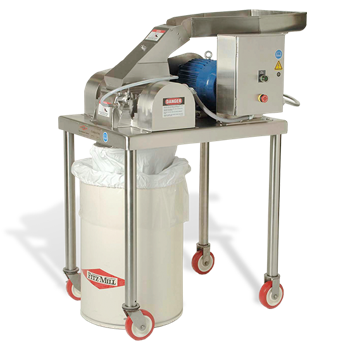 Food and Industrial Fitzmills
These robust mills have been used successfully for decades in the food and industrial sectors as an efficient way to process high capacities and achieve reliable particle sizes day after day. These straightforward mills are designed to 'plug & play', making them easy to use and configure.  They are proven to be reliable, with low maintenance demands. With the ability to reconfigure your machine by changing selected parts quickly and easily and our wide range of screen design, you can seamlessly adapt to changing demands and future application needs.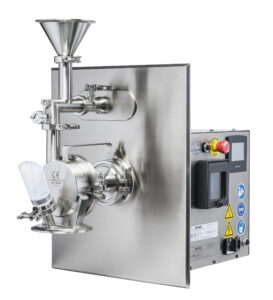 Our lab-scale and production designs are commonly integrated with an isolator for customers processing potent or oxygen sensitive materials.  The Fitzmill is a starve-fed, or controlled fed milling machine, and a number of feeding options are available including feed screws, rotary valves, and butterfly valves.
In 1976, Quadro developed and engineered the original cone or conical mill. They've since evolved into the preferred milling technology, whom are respected and utilized by global leaders in over 80 countries, across a range of industries.  Comils are used for a wide range of applications including sizing wet granulated particles before drying, sizing dry granules before the tableting stage, delumping dry detergent during production, deagglomerating dried fruits, reclaiming – broken tablets, broken biscuits that are ground back into their powder form prior to being restructured, and more.  Particle size reduction to D90s of 250 to 5,000 micron are most common, with an option for higher tip speeds to bring D90s near 60 micron.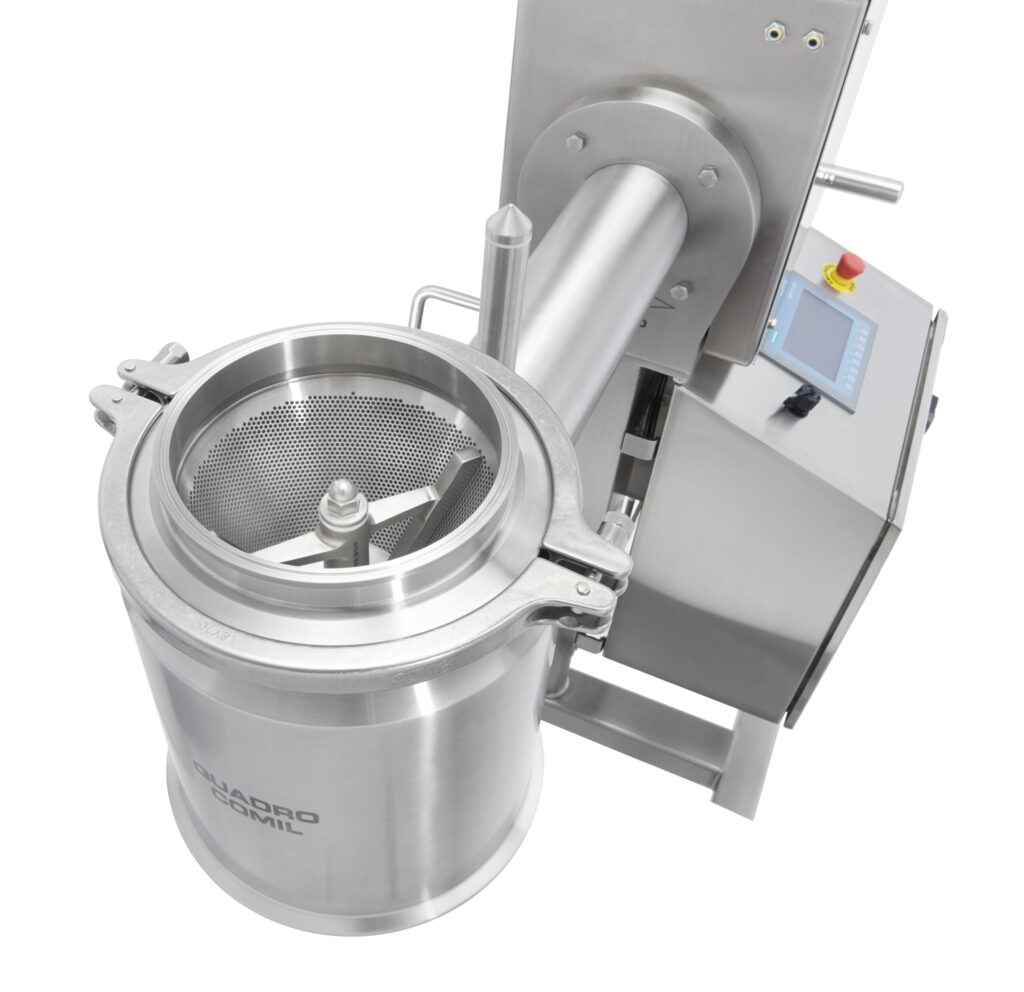 This mill's advanced, compact design and extremely short head height provide for easy integration into processing environments where head room is limited. A large diameter infeed and "straight through" housing (with no offset between inlet and outlet) promote unhindered inline product flow for quicker discharge.  The milling head is detachable from it's drive platform making it possible to switch milling technologies, or for parts washing, and auto-claving.
More resources at bottom of page.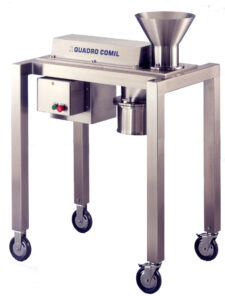 The innovative, low-speed design applies an inherently gentle action to the product, achieving optimum particle granulometry while generating limited or no heat, low noise and minimal fines. In addition to low energy consumption, the result is a consistent, high-quality end product, even with heat-sensitive materials. Designs are suitable for pharmaceuticals, nutraceuticals, food, and other process industries.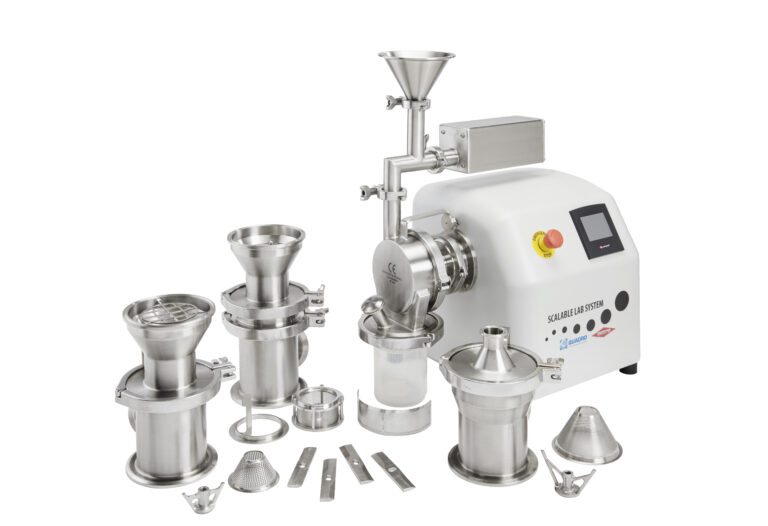 Scalable Lab Milling System
Our scalable lab system offers the ability to alternate between five milling technologies in minutes.  Utilizes Smart Detect, a unique lab equipment feature that automatically ensures the appropriate scalable speed range is fixed by recognizing the head being installed. PSD and capacity scalable with simple operating parameters transfer from small sample R&D tests, to full-scale production machines. Suitable for dry milling and/or wet material conditioning, as stand alone or to complement lab-scale wet granulation systems.
Pin Mills, Attrition Mills & Fine Grinds
We offer a selection of fine milling technologies ranging from industrial applications to high-end pharmaceutical applications.  Our principals offer material testing at their factories to help determine the right milling technology for your materials.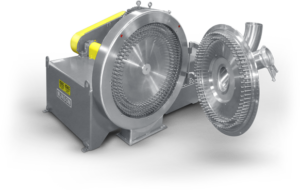 A simple, inexpensive means of grinding, sizing, de-agglomerating and/or homogenizing. Ideal for a broad range of food, chemical, pharmaceutical, nutraceutical, mineral and agricultural products — including pulverizing of insects, eggs and larvae in flour applications — in tight size ranges from coarse to 400 mesh.  Munson's Pin Mill, or "Centrifugal Impact Mill," reduces bulk materials into narrow particle size ranges without the need for screens, hammers, knives or rolls.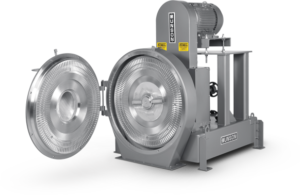 Attrition Mills from Munson Machinery are ideally suited for reducing fibrous and friable materials within a relatively narrow particle size range from coarse down to 100 mesh.  Typical applications include materials that cannot be reduced by impact (hammer mills or pin mills) or by screen classification (screen classifying cutters) including: seeds, grains, spices, tobacco, roots, cellulose, fibers, minerals, metal powders and other products.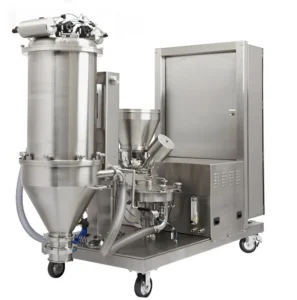 The F10 fine grind mill is an advanced fine powder grinding machine, producing the highest percentage within the target PSD of any existing fine milling technology.  For d50 milling in the 5–45 micron (< 325 U.S. standard mesh) range, the Quadro® Fine Grind F10 delivers unsurpassed particle size consistency and maximum on-spec yield. Used to size-reduce diverse materials and those traditionally considered to be difficult to grind such as APIs, excipients, fine chemicals, nutraceuticals and high-value flavors and fragrances.
Crumblers, Lump Breakers & Shredders
Our lump breaking equipment ranges in size, shape, and form covering a wide range of applications including deagglomeration of fine pharmaceutical APIs and excipients, dried fruits, salts, sugars, resins, and more. Any bulk material prone to agglomeration due to humidity and moisture, compression, or other reasons are a potential candidate for this line of equipment.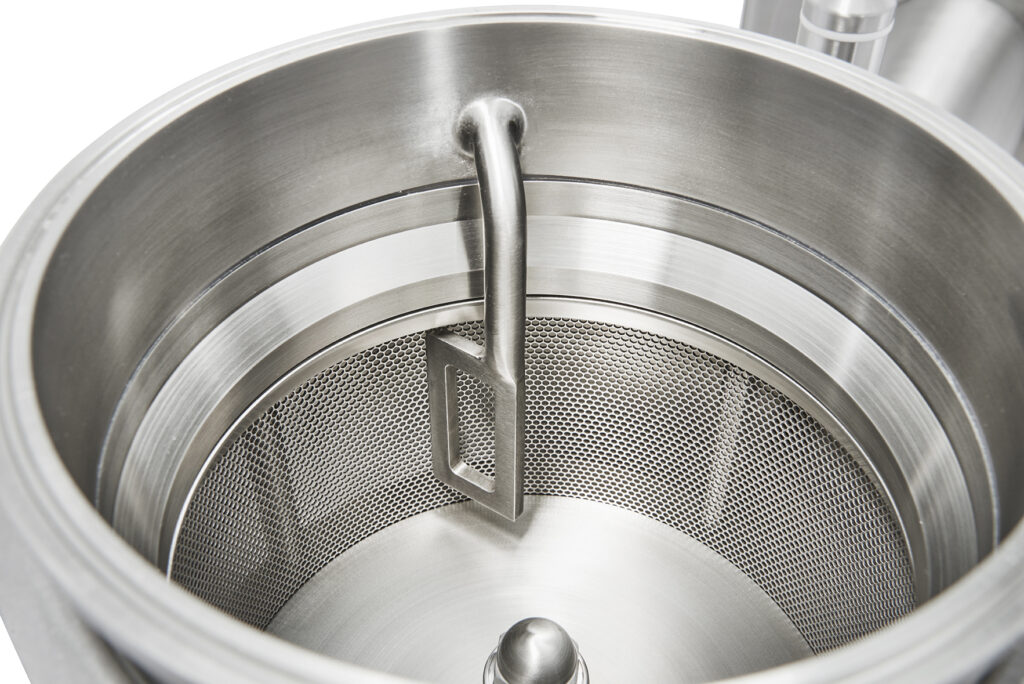 Ideal for powders requiring minimal force to deagglomerate.  The rotating action of the FlexSift combined with the custom designed spoiler arm gently de-agglomerates without reducing the size of the particles. The spoiler arm also aids in the sifting of very fine particles, typically in the 50 mesh (300 micron) and below range, which traditional sifting technologies have difficulty in passing  through their screens. It's compact design can easily integrate between bulk bags, IBCs, drums, or material can be hand-fed.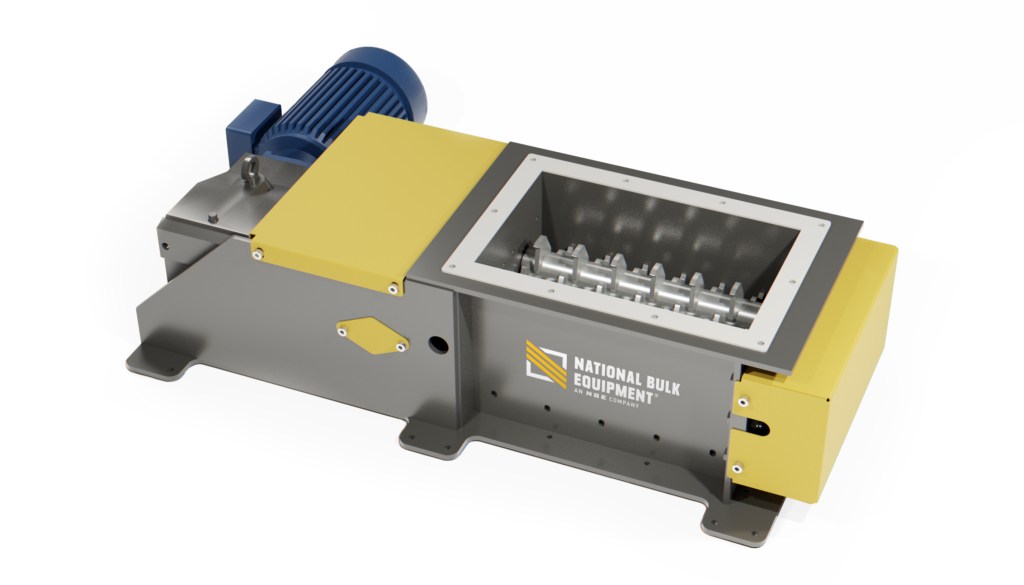 Crumblers - Lump Breakers
Ideal for heavy-duty crumbling and size reduction of tough, and abrasive materials such as salts and organic sugar.  The NBE crumbler reduces large, resistant agglomerations into a manageable particle size for further processing downstream such as screw conveyance or pneumatic conveyance, or a pre-agglomeration step prior to milling.  Designs are easily integrated with upstream raw material unloading equipment.
More resources at bottom of page.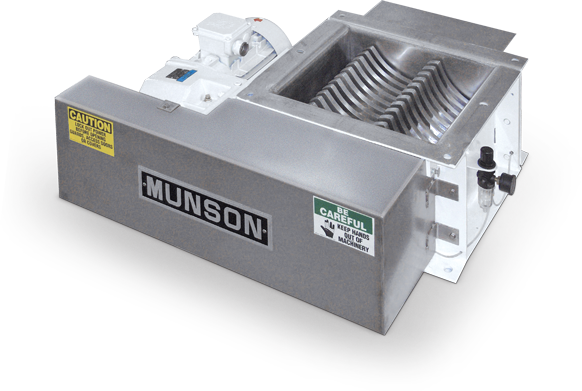 Munson's Titan Shredder reduces the volume of industrial, medical and consumer waste including scrap plastics, fibrous products, fiberglass, wood products, paper/cardboard, gypsum wallboard, glass and other waste products. It features dual, positive-feeding rotors with extended cutter teeth and low-speed, high-torque drive(s) to shear and shred heavy volumes of large solids with minimal power consumption.
Our roll compaction portfolio offers a truly scalable growth path from models ideal for R&D development to high capacity large production-scale models.  High-quality results are due to our unique dual-screw feed system design which ensures the ideal conditions are created right from the outset at the critical nip area of the rolls. Designs are inherently well sealed with vacuum-tight security. Where even higher containment levels are demanded, our patented Product Containment System (PCS) with nitrogen inerting and security interlock is available.  With minimal components to maintain or clean, production up-time is maximized.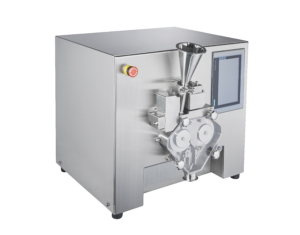 Lab Scale Roll Compactors
This benchtop model is ideal for proof-of-concept work or for smallest volume production, but processes powders in the same way as larger production-scale systems. This ensures your development projects can progress to production with confidence.  Up to 20 kN / cm roll pressure is equivalent to production-scale systems.  The system offers multiple roll surface styles for maximum flexibility.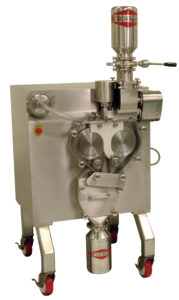 Production Scale Roll Compactors
Systems range in throughput up to 400 kg/hr.  A pre-compression screw provides uniform material feed to the rolls, and a precision parallel floating roll ensures uniform compaction force for ribbon consistency.  Wider selection of milling options over competitor products due to variety of rotor and screen combinations.  Optional in-wall configuration available for maintenance outside clean room.
More resources at bottom of page.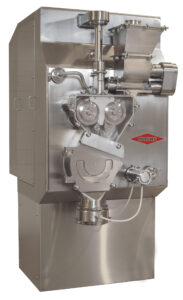 Contained Roll Compactors
Designed to fully contain all product in the processing and receiving sections of the machine. This tightly sealed design allows for the optional Product Containment System (PCS) to be added at the discharge. The PCS draws a slight vacuum in the process environment to provide maximum containment.  Optional Wash-In-Place systems are available.  Fitzpatrick offers extensive validation and qualification services.
Milling and Dry Granulation Resources
Milling and Dry Granulation Videos
White Papers, Application Notes, & Spec Sheets
White Papers & Guides
Application Notes
Spec Sheets & Brochures