Mixing, Drying and Cooling
We work with manufacturers on a case to case basis selecting the correct bulk mixing and thermal processing technologies to meet their unique application requirements.
Thermal processing is unique to every material and application and relies on direct or indirect heating methods to change the temperature of a material and alter its state in some way. Our cooling and drying technologies are suitable for food, pharma, chemical, biomass, cannabis, hemp, and mineral applications.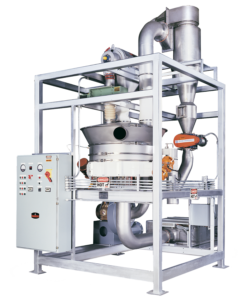 Fluid Bed Dryers and Coolers
Kason Corporation's circular vibratory fluid bed batch and continuous dryers, coolers, heaters, and moisturizers provide cost-effective processing solutions.  The innovative designs take up a smaller space without compromising processing performance.  Designs range from pilot and lab size operations to full-scale production.  Fluid bed dryers are ideal for processing powders, granules and pelletized materials.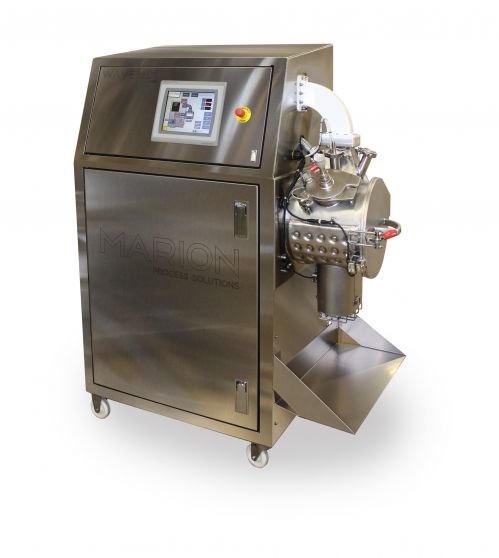 WaveMix represents the new wave in thermal processing technology that combines microwave, vacuum and mixing.  Our insight has proven that an agitated bed of material is key to industrial microwave processing of powders, granules and slurries.  Microwave heating of a fluid bed of product creates the advantage of shorter processing time, uniform material temperature (no scorching), and the flexibility to operate under pressure, vacuum and/or nitrogen blanket.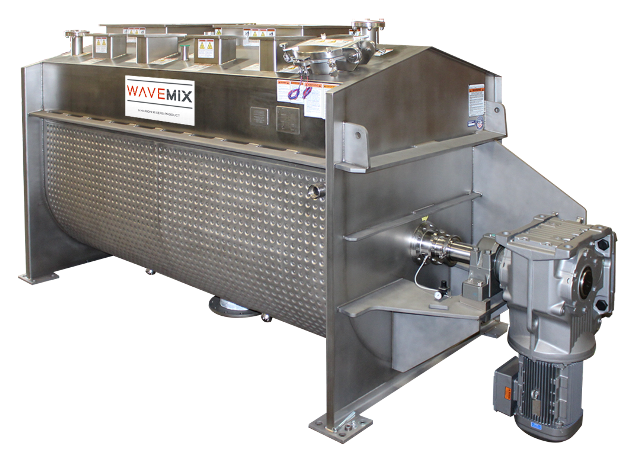 Our custom designed batch ribbon and paddle blenders can be jacketed by circulating air, water, or oil through the outer coil system.   Optional pressure and vacuum vessels enhance performance to your specific needs.  Marion can provide atomized spray manifolds for coating or agglomeration, and high intensity choppers for controlled high shear mixing.
Ribbon and Paddle Blenders
Carbon or stainless, batch or continuous, with finishes from mill to 3A dairy, each mixer is individually handcrafted to meet our customer's specific application.  Working capacities range from 1.5 cubic feet to over 600 cubic feet.  These systems an an economical choice for a wide range of applications including plastic pellets, bakery mixes, tobacco, fertilizers, chemicals, coffee, pigments, and much more.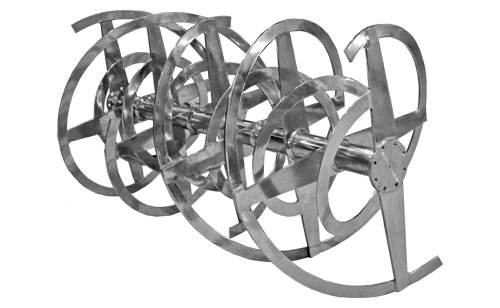 Ribbon mixers can perform a variety of mixing operations.  These agitators are excellent for free-flowing materials that are of like size, shape, and density.  In mixes with small agglomerates, the greater shearing action of a ribbon mixer can also be beneficial.  Ribbon mixers are designed for thorough end-to-end mixing with inner spirals pushing product away from the discharge, while the outer flights pull material back toward the discharge opening.  Ribbon agitators are most commonly used in the food industry where bulk products are repeatedly blended.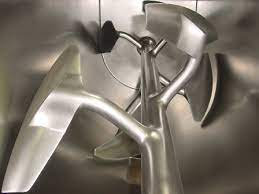 Paddle-style agitators are specially designed to scoop, lift and tumble in a gentle but thorough mixing action, and are ideal for mixing solids or liquids of various particle size, density, and viscosity. While being mixed, the material travels in a three-dimensional figure-8 pattern.  The material is constantly being pulled from the ends of the mixer to the middle, where the most aggressive mixing action is taking place.  Paddle agitators are fitted with tighter clearances with the trough than ribbons to allow more efficient clean-out at the end of each batch.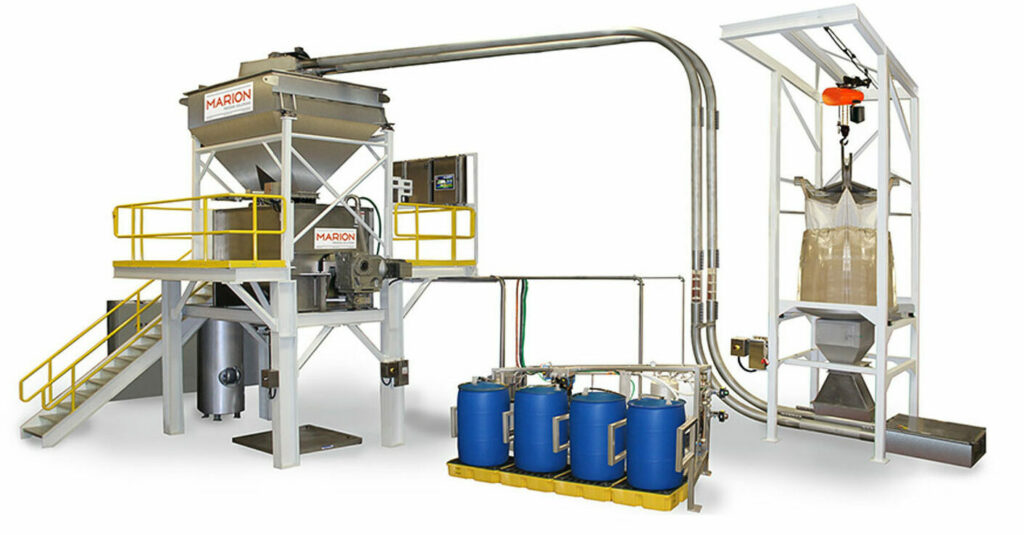 Whether it's bulk material unloading, conveying, precise powder or liquid dosing, a self-cleaning system or industry-leading PLC capabilities, our team of experts stand at-the-ready to design the right solution for your specific needs.  We understand the critical balance between throughput, repeatability, energy and labor costs, and the myriad of other variables that influence efficient and effective operation.   Turnkey systems to include onsite discovery, dedicated project team from concept to delivery, full-scale acceptance testing, setup and commissioning supervision, and ongoing life-cycle maintenance and support.
Tumble blenders encourage product to do just what the name of the blender suggests – tumble.  Diffusion is therefore the main mechanism for mixing as particles roll, cascade and fall over each exposed surface as the vessel rotates on a horizontal axis.  As tumble blending is low shear, it's especially well-suited to mixing dense powders, fragile solids and abrasive materials.   It's also regularly used when blends contain trace components or when using ingredients that are different in size and density.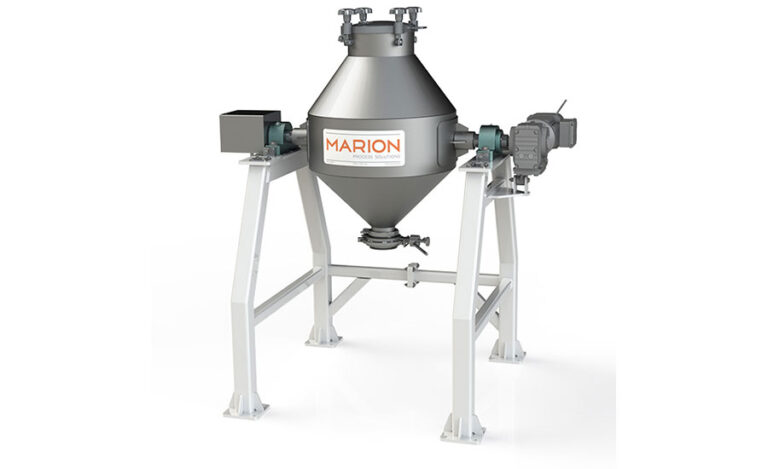 The Double-Cone Blender is an industry standard often used for coffee, teas, pharmaceuticals, glass and ceramic mixing. Tumble blending offers rapid, low impact mixing, which is particularly good for abrasive solids and semi dry material. The revolving action induces a highly uniform mix as the end result. The Double-Cone blender is good for mixing materials with trace components, such as flavorings for coffee beans or drink mixes. The configuration can include load cells to weigh incoming materials for high precision blends.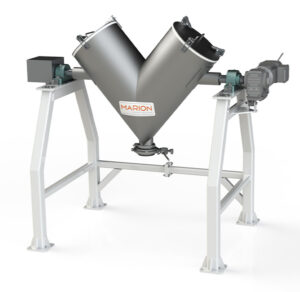 The V-Cone Blender is a classic tumble mixer for formulations with free flowing materials and uniform particle size, such as nutraceuticals, pharmaceuticals and powders. The simple design provides quick blends and easy discharge and cleaning. The blender rotates on its axis, with material gently converging and dividing for an even, consistent mix.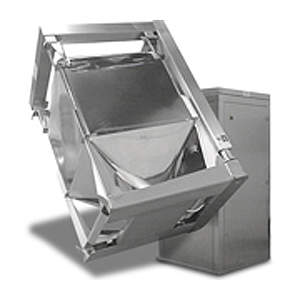 The Matcon IBC blender offers full manufacturing flexibility to its customers. Because the IBC itself becomes the blending vessel there is no product contact with the blender so recipe changeovers can be instantaneous. Simply load on the next IBC without worrying about cleaning and cross-contamination. Ingredients can be prepared within the IBC off-line, moved to the industrial mixer and blended in-bin before being transported, within the same IBC, to the packing line. This makes for the leanest and most efficient production process available.
NBE dry bulk material mixing systems are engineered and manufactured specifically for industrial and commercial applications where processing operations require thorough and homogeneous mixing of dry materials. From batch mixing systems, to full-scales continuous mixing operations, the NBE line of mixers delivers fast and complete mixing of powders, pellets, granules, and other dry solids.  This line of mixing equipment is most common in the plastics industry.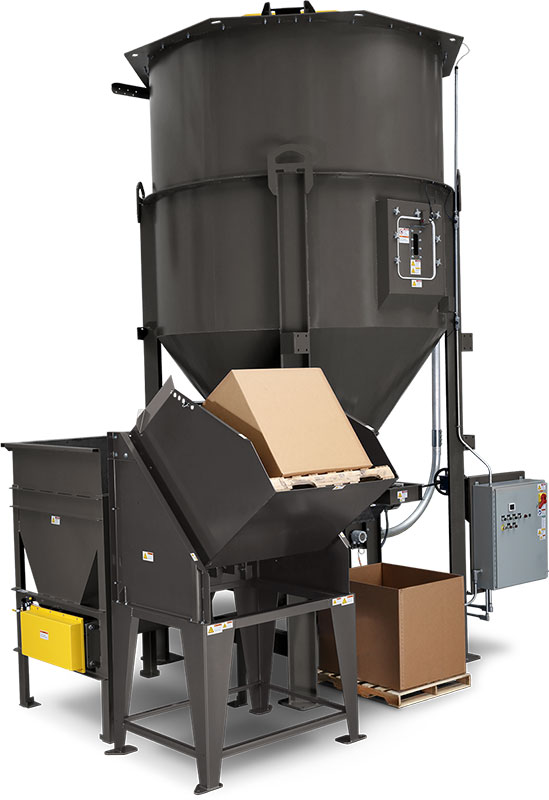 NBE bottom-loading Whirlwind mixing systems are designed for batch mixing applications where a high level of homogeneity is required, or where materials from multiple input sources, such as a vacuum system and bulk container, are being introduced simultaneously. By introducing material to the bottom of the mixing vessel, Jumbo Whirlwind mixers achieve a quick and thorough integration of even challenging materials like powders and other dry additives.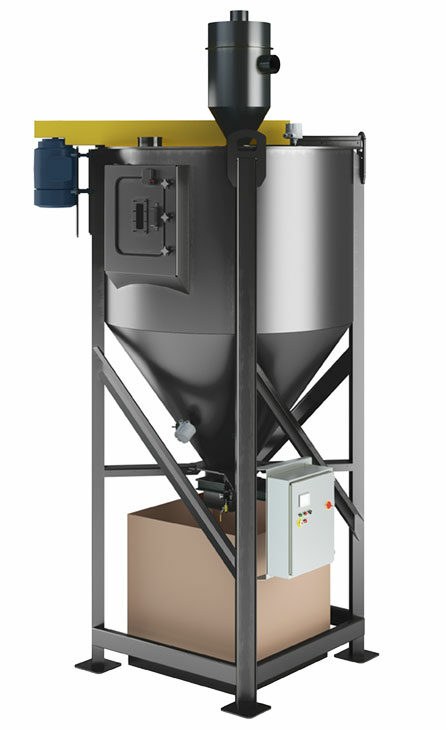 NBE Jumbo top-loading bulk material mixing systems are specially constructed for high-volume batch mixing applications where the mixing process must completely cycle in just minutes. A vertical solid-core auger pre-mixes material as it is drawn up and out of the center mixing tube. Top-mount, broad-throw dispersion paddles ensure a homogeneous mix. For processing operations handling up to 25,000lbs, NBE Jumbo mixers supply dry bulk material mixes that are thoroughly and repeatedly prepared for downstream processing.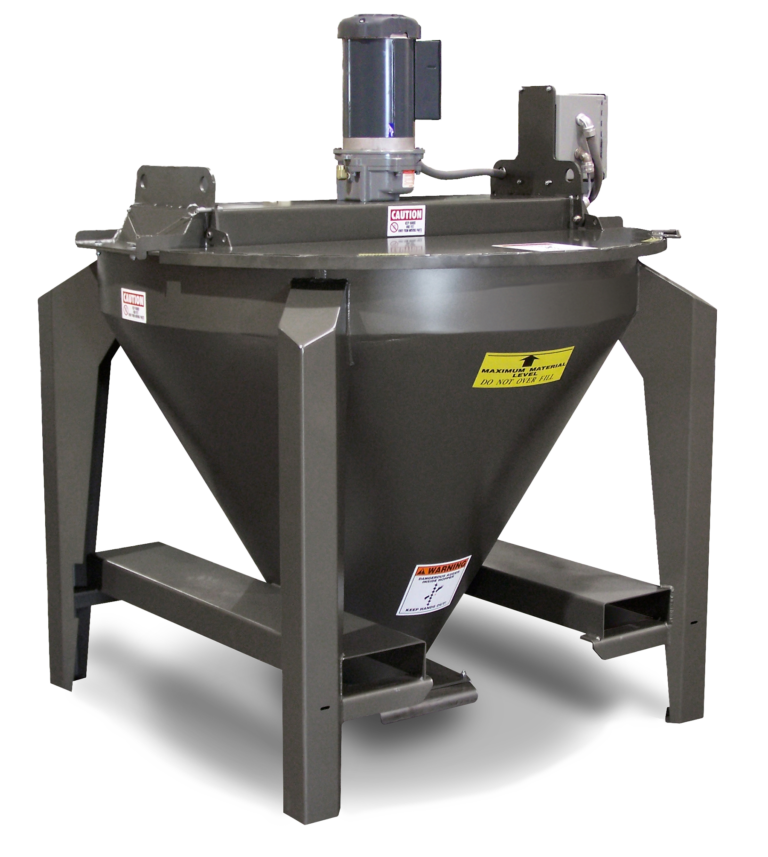 Quick Mix top-loading bulk material mixing systems use a vertical-auger mixing method to draw materials from the bottom of the mixing hopper, up through the center mixing tube, to the auger-top dispersing paddle where material blending continues; accelerating the homogeneity and cycle time of the process. Dry bulk material mixing and blending occurs quickly and accurately; material integrity is protected and finished product is thoroughly and homogeneously mixed for further processing or packaging.
Mixing, Drying, and Cooling Resources
Mixing, Drying, and Cooling Videos
White Papers, Application Notes, & Spec Sheets
White Papers & Guides
Application Notes
Spec Sheets & Brochures
White Papers & Guides
Application Notes
Spec Sheets & Brochures