Powder Dispersion and Liquid Mixing
We supply inline powder dispersers and a variety of liquid mixing and wet milling solutions to dramatically reduce batch times and improve the quality and homegeneity of our customer's products.
Our line of powder dispersion equipment allows for single-pass or multi-pass dispersion of extremely difficult-to-wet powders, thickening agents, and rheology modifiers to produce homogenous dispersions that are completely free of lumps and "fish eyes".  These machines are found in an incredibly wide range of applications including creams, ointments, shampoos, antibiotics, paints, toothpastes, mouthwash, salad dressings, sauces, and many more.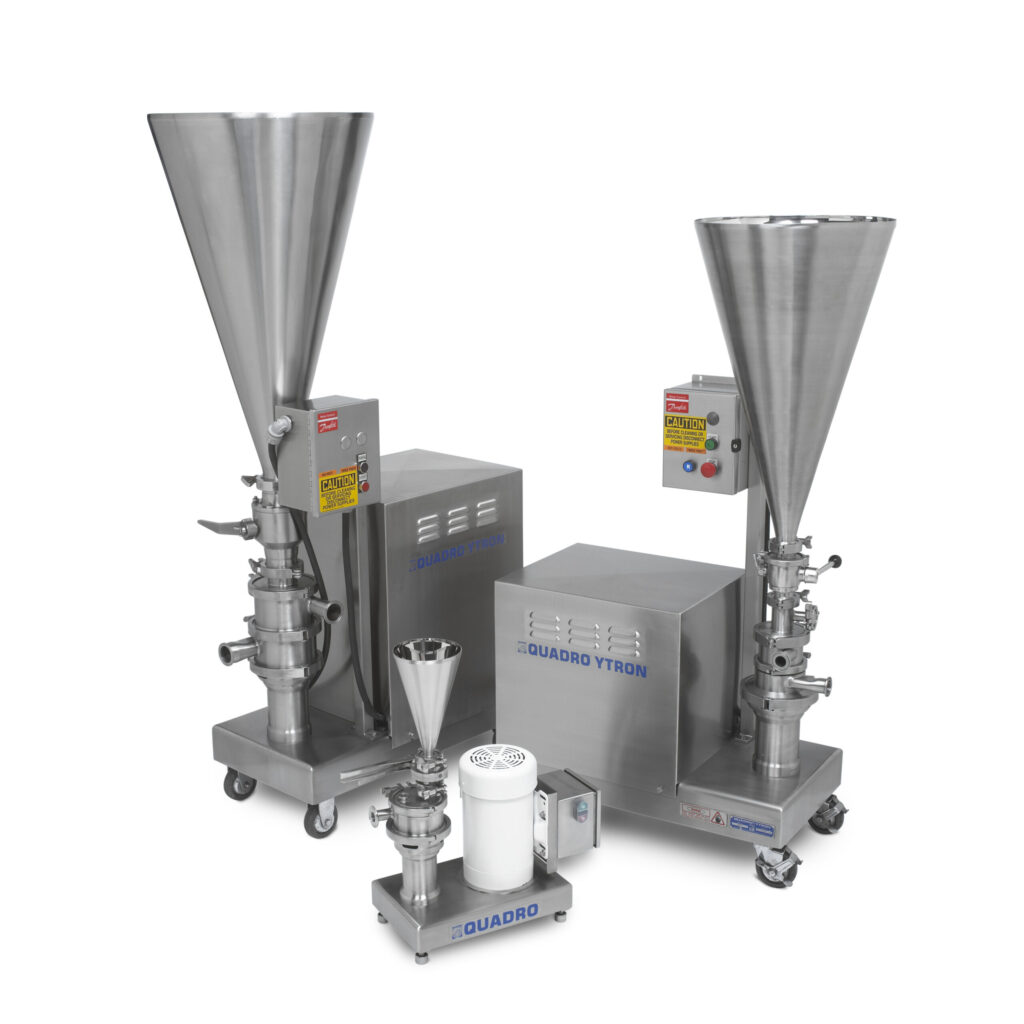 The Quadro Ytron® ZC is able to achieve a solids dispersion of up to 70% by weight depending on the product, and minimal air entrainment greatly reduces product deaeration time. Since powder is completely hydrated and free of lumps after a single pass, product yield is maximized and wastage is reduced or eliminated. The high speed dispersion and hydration performance of the ZC often results in batch time reductions of up to 90%.  ZC powders dispersers start at a lab scale with liquid flow rates as low at 3 gallons per minute, are accurately scalable, and end with our product machines capable of 400 gallons per minute.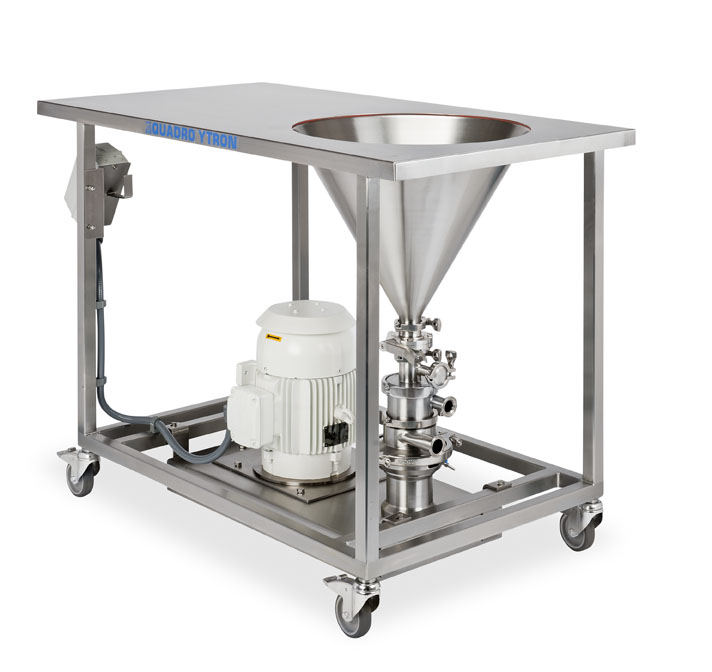 Customized options are available including an ergonomic powder dump table (picture shown) large enough table top to stage bags of powder.  Dust free options to transfer powders are also available.  Stainless steel construction and gasketed hopper design are well-suited to wash down duty environments and sanitary processing.  Maintenance-friendly features such as tool-less disassembly and one-handed base adjustment allows COP items to be removed with ease.  Product contact areas below the powder valve can be left connected and easily cleaned with a typical CIP process.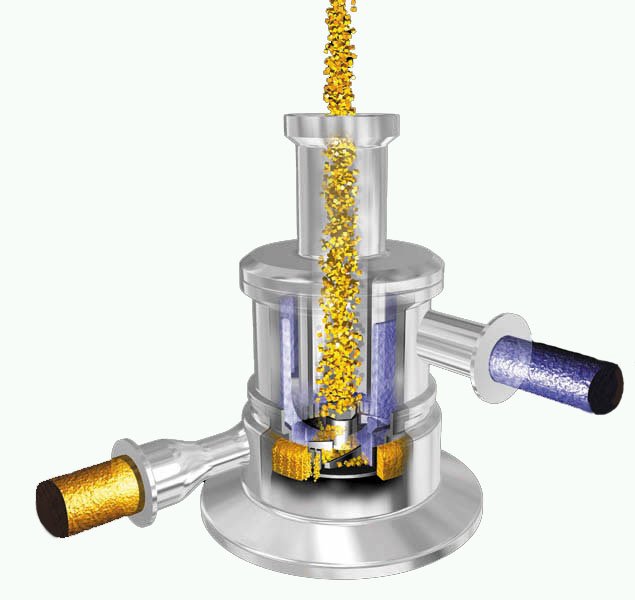 The advanced, close tolerance design of the ZC Disperser's rotor/stator reactor provides intense shearing of powders prior to hydration. This leads to
homogeneous suspensions free of lumps and "fish eyes".  A near perfect vacuum is created in the ZC's reactor housing, and powder is completely hydrated after passing through the Disperser, which maximizes product yield and reduces/eliminates waste.  Even with difficult products such as hydrocolloid gums, cellulose gums and carbomers, complete dispersion is achieved in a single pass.
Emulsifiers, Homogenizers & Wet Mills
Typical applications for the high shear mixer and homogenizer include submicron emulsions (ophthalmic, functional foods, etc.), drug suspensions or API milling, topical formulations (pharmaceutical, cosmetics, personal care), and chemical applications (wood stains, agricultural products, etc.).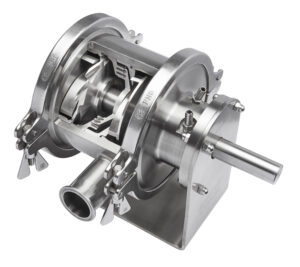 The Ytron® Z Emulsifier high speed, high shear emulsifying mixer achieves repeatable product quality at production efficiencies/outputs exceeding those of conventional high shear mixers such as in-tank rotor-stator mixers, colloid mills and shear pumps.  As many as three stages of sequential rotor-stator mixer tooling operate at high differential velocities with numerous shear zones working on product as it flows through the inline emulsifier mixer.  This ensures that no product passes through the machine without receiving the targeted shearing action.  Single pass processing results in reduced batch times by up to 80% and repeatability batch after batch.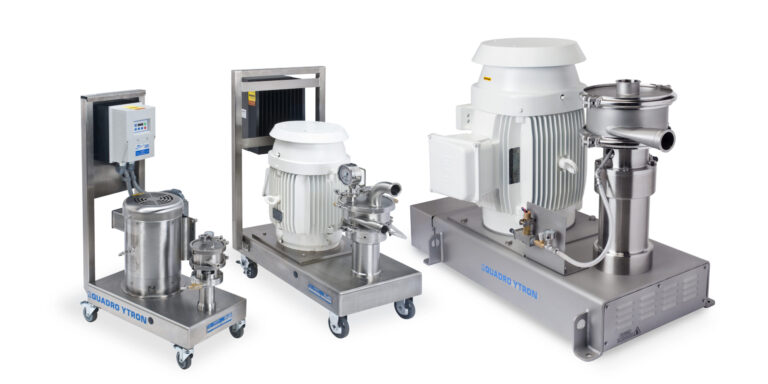 The Quadro® HV high shear homogenizer/wet mill produces more than 55x the high shear energy of a conventional rotor-stator mill, resulting in finer size reduction and less processing time.  These machines are successful in a wide range of applications including lotions, condiments, cannabis infused beverages and emulsions, ointments, and more.   Available in 3 models with liquid capacities from 0.3 – 75 gallons per minute, and CIP cleanability options on all designs.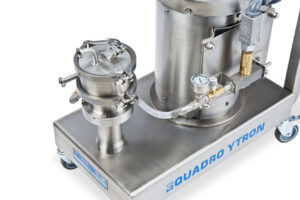 Engineered for micronizing suspensions and slurries, this versatile wet milling equipment closes the gap between traditional rotor-stator mixers and media mill technology. Wet suspension milling and micronization processes can now be accomplished without the use of difficult-to-clean and time-consuming media mills. The HV series of flexible and efficient high shear homogenizers is ideal for your emulsifier and homogenizer needs.  Commonly found in applications including API suspension milling, eye drop emulsions, drug delivery creams, ointments, and more.  High capacities save significant process time over conventional high-pressure homogenizers and media mills.
Powder Dispersion and Liquid Mixing Resources
Powder Dispersion and Wet Mill Videos
White Papers, Application Notes, & Spec Sheets
White Papers & Guides
Application Notes
Spec Sheets & Brochures
White Papers & Guides
Application Notes
Spec Sheets & Brochures