Our company was founded on our powder and bulk solids conveying and feeding lines.  Through decades of experience, we have the right solutions to automate your plant's raw material handling.
Gravimetric and Volumetric Feeders
Coperion K-Tron offers a wide variety of feeding solutions to handle most bulk materials in a wide range of applications involving prefeeding, feeding or batching.  Since its creation in 1964, Coperion K‑Tron has defined the leading edge of technology for material handling applications in the process industries.  From chocolate chips to fiberglass, floodable powders to plastic pellets and waxy liquids, we have the right feeder for any material.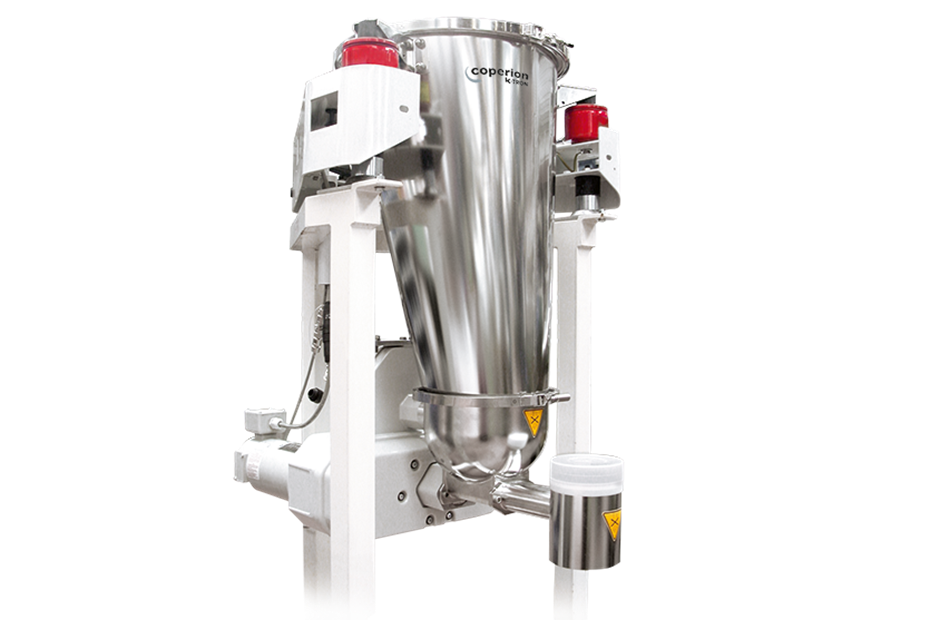 Screw feeders are the most common and economical feeders you can buy. Coperion K-Tron makes both single screw and twin screw volumetric feeders in a wide range of sizes to meet your feed rate requirements and solve your material handling problems.  Some are optimized for quick material changes and can even be configured for differing material properties.  Others feature easy cleanability and meet food and pharmaceutical sanitary requirements.
More resources at bottom of page.  For individual feeder specification sheets please contact rep, or visit the K-Tron Download Center.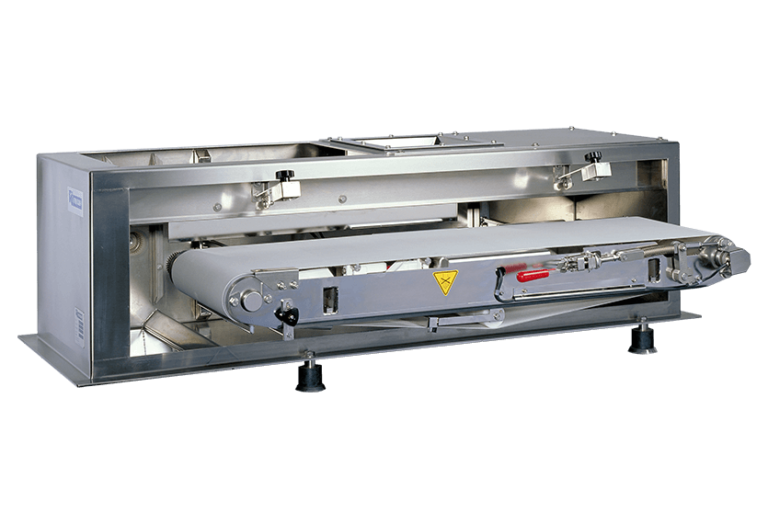 Weigh Belt Feeders are relatively simple, extremely reliable gravimetric feeders providing high feeding precision and efficient process monitoring. They can be used as a feeder, batcher, or meter. The SWB is the perfect solution for wild flow metering, where headroom is limited, or when feeding friable material that may be damaged by other feeding methods. This compact gravimetric feeder can handle large volumes of bulk material with different flow characteristics.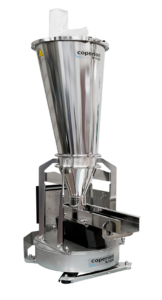 Where uniform discharge is critical, especially at very low rates, our vibratory feeders provide excellent gravimetric feeding of very free flowing bulk materials. The Coperion K-Tron K3 line of vibratory feeders  have a modular design and are available in both a standard design and a hygienic easy clean design. Vibratory feeders are ideal for gentle handling of a wide range of bulk solid materials, especially fragile ingredients and problem materials such as finished friable food products and ingredients, flakes and glass fibers.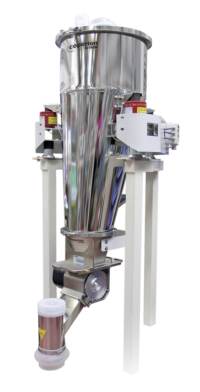 The unique Coperion K-Tron Bulk Solids Pump (BSP) feeders have been specifically designed and engineered to provide gentle, precise feeding of free-flowing pellets, granules, flakes, powders and friable products.  The BSP feeders do not use the usual screws/augers, belts or vibratory trays to convey the material. Instead, they utilize positive displacement action to feed free flowing materials with astounding accuracy, offering uniform discharge, consistent volume and gentle handling. All BSP feeders have vertical rotating discs that create a product lock-up zone, conveying the material smoothly from storage hopper to discharge outlet, achieving true linear mass flow.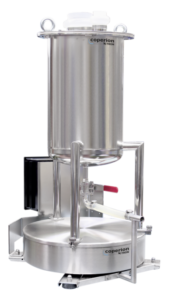 Liquid loss-in-weight feeders provide accurate continuous volumetric or gravimetric flow control of liquids. The highly accurate gravimetric units combine the pump and tank with a suspension scale or platform scale; the feed pump for metering the material is located outside the scale area. When feeding liquids, the special requirements of each application vary. A wide range of pumps and tanks can be combined to constitute a Liquid Feeder and satisfy the specific demands. The feed pump is selected according to the material and the required feeding capacity.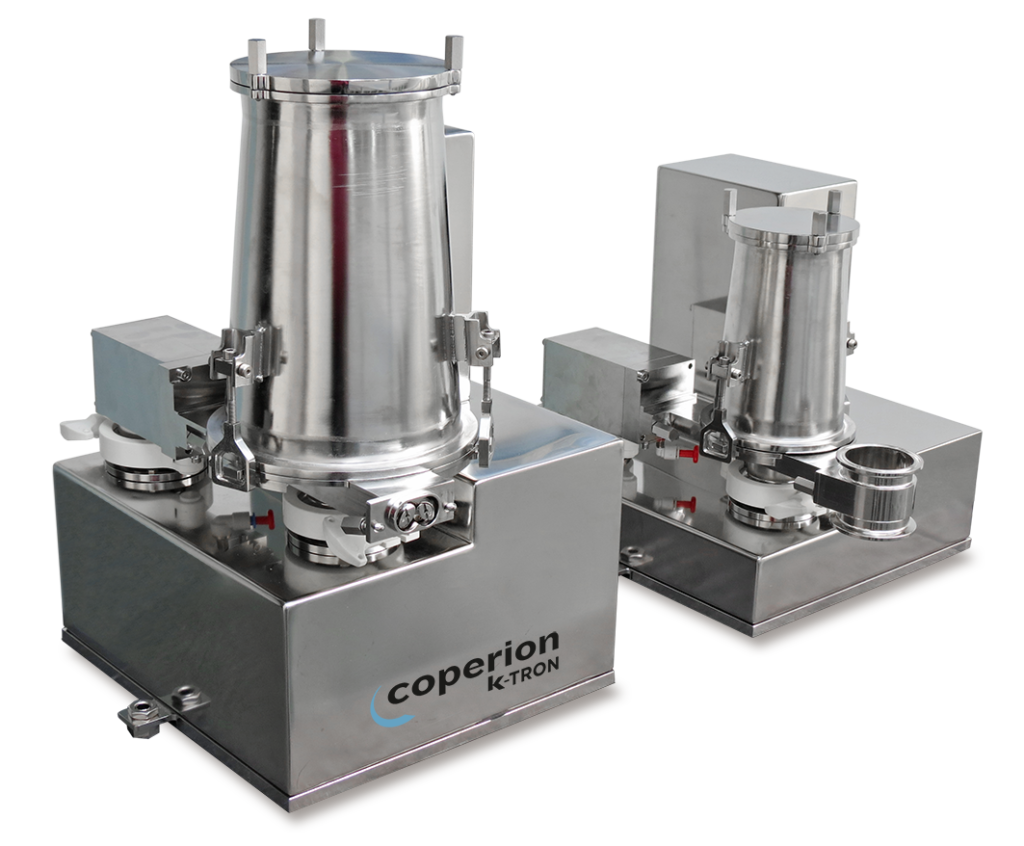 Coperion K-Tron's family of twin screw microfeeders has been specially designed to provide maximum accuracy at minimal feed rates, which makes these feeders ideal for use in the chemical and pharmaceutical processing industries. Unique design features ensure that high value ingredients are fed accurately at rates as low as 32 g/h with minimal residual material left in the feeder. The modular design means more flexibility for the process and easy access to all parts for cleaning and maintenance. The 12 mm and 16 mm twin screw feeding modules are completely interchangeable and can feed a wide range of free-flowing to difficult powders.
Pneumatic Conveyance Systems
Pneumatic conveying provides a cost-effective way to handle and transfer powdered and bulk granular materials easily with very little loss.  Convey lines can be routed horizontally and vertically, over short or long distances, and conveying rates can range from several pounds per hour to several tons per hour.  Pneumatic conveying systems are able to fully evacuate the source vessel and convey line, making them a possibly advantageous choice over most mechanical conveying options.

The 2410 loader is offered in two versions – pellet or powder.  The 2410 pellet loader is a compact, economical vacuum loader that efficiently handles clean pelletized materials. It is used for machine loading and other applications where material is moved a short distance to one destination. It comes with a self-contained power head and controller. The low profile design allows the loader to be installed in areas where headroom is limited. The 2410 powder loader is equipped with an automatically pulse cleaning filter assembly.  Loaders can typically convey at a maximum rate of 1,000 lbs per hour.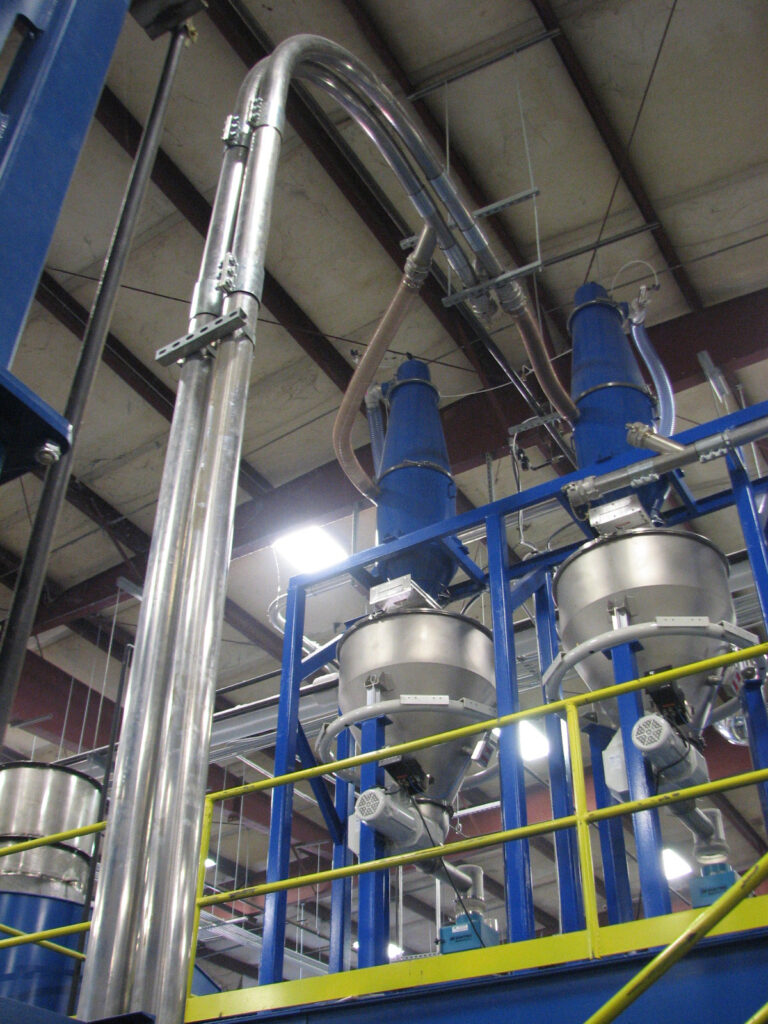 Powder and pellet sequencing receivers provide a high capacity sequencing system designed to handle powder, pellet, regrind and granular materials. Each receiver has a stainless check valve to allow multiple receivers to draw material from a common conveying
line.  The polyester cartridge filter is equipped with automatic reverse jet pulsing for thorough cleaning. Applications include railcar unloading, silo to daybin transfer, in plant transfer or feeder refill. Various models available in carbon steel (painted), stainless steel or aluminum.  All models feature quick connect clamps for easy cleaning and filter maintenance.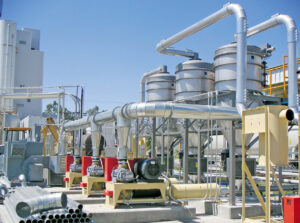 Continuous Pneumatic Systems
A continuous vacuum or pressure system can improve the accuracy and efficiency of your major,
minor and micro ingredient handling. Maximum system performance is achieved by taking
into consideration factors such as plant layout, material delivery, material characteristics, batch
size and the required conveying rates. System controls can include recipe, formula and inventory
capabilities. Materials of construction include stainless steel for sensitive or sanitary applications
as well as epoxy-coated carbon steel or aluminum for general applications.
More resources at bottom of page.
As one of the most common and economical methods of conveying a powder or bulk solid, we offer a broad screw conveying and rigid auger portfolio.  Screw conveyors are used in horizontal, vertical or angled applications and are best suited for shorter conveying distances.  They are a good choice for products that might clog a pneumatic or tubular cable conveyor.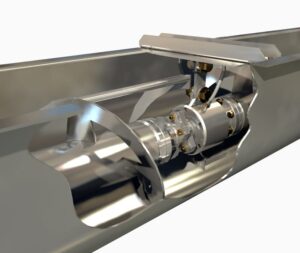 Shafted screw conveyors are used in thousands of industrial applications every day for efficiently conveying a variety of bulk materials. A screw conveyor's main function is to transfer bulk materials from one process to another. Screw conveyors are very cost-effective and require minimal maintenance to operate while providing a large array of versatility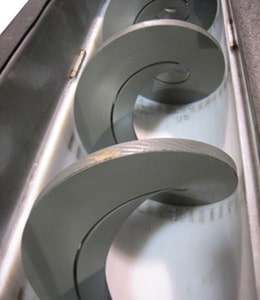 Shaftless Screw Conveyors
A conventional shafted screw conveyor has a center pipe to support the screw flights, and the pipe is supported on each end by bearings. Typically, there is a half-inch gap between the outside diameter of the screw and the inside diameter of the trough and therefore, the screw never touches the bottom of the trough. A shaftless conveyor is designed to be supported by a liner that conforms to the radius of the trough. The weight of the shaftless spiral is distributed over the full length of the spiral on the liner.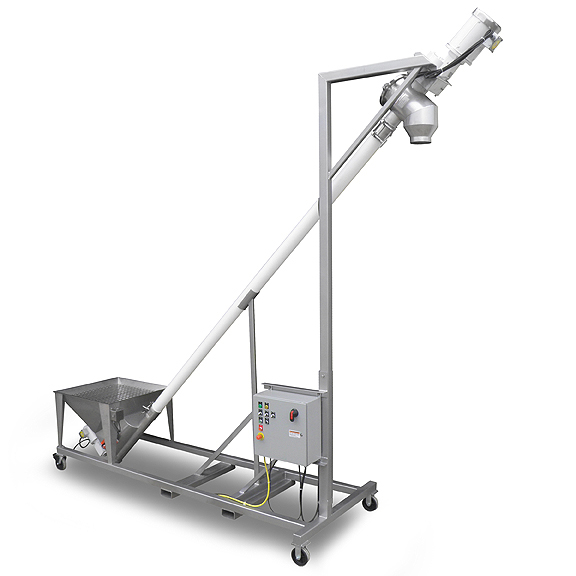 Flexible screw conveyors can convey in any direction – from horizontal to vertical, routed around fixed obstacles and equipment, and from one room to another. Additionally, flexible conveyors are ideal for lifting materials from bag dump stations or storage bins. They can convey products at ceiling height to feed a line of processing or packaging machines – as multiple discharge points can be placed along horizontal sections.
Our modular system relies on basic components such as discs, tubing, cables and sweeps that supply the flexibility and adaptability to accommodate a processing plant's space and specifications. This flexibility easily enables customization to move materials in any direction, horizontally or vertically, from floor to mezzanine or between buildings, with minimal modifications to your facility. From powders to pet food, coffee and cocoa to cereals or snacks, Cablevey conveyors supply unique benefits that help widen profit margins.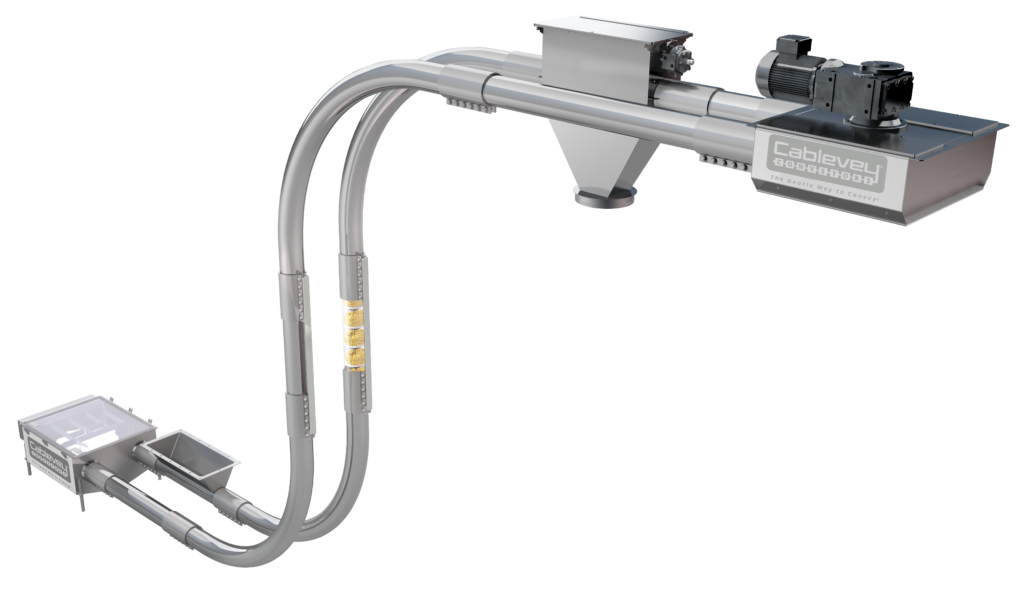 Cable conveyors are ideal for gently moving friable materials through all phases of the production process. Our cable and tube conveyor design preserve product integrity to minimize breakage and loss.  Disc system mounted on the cable keeps contents secure from inlet to discharge. Safeguard preblended mixes of varying bulk densities for accurate proportions to eliminate sifting or product loss.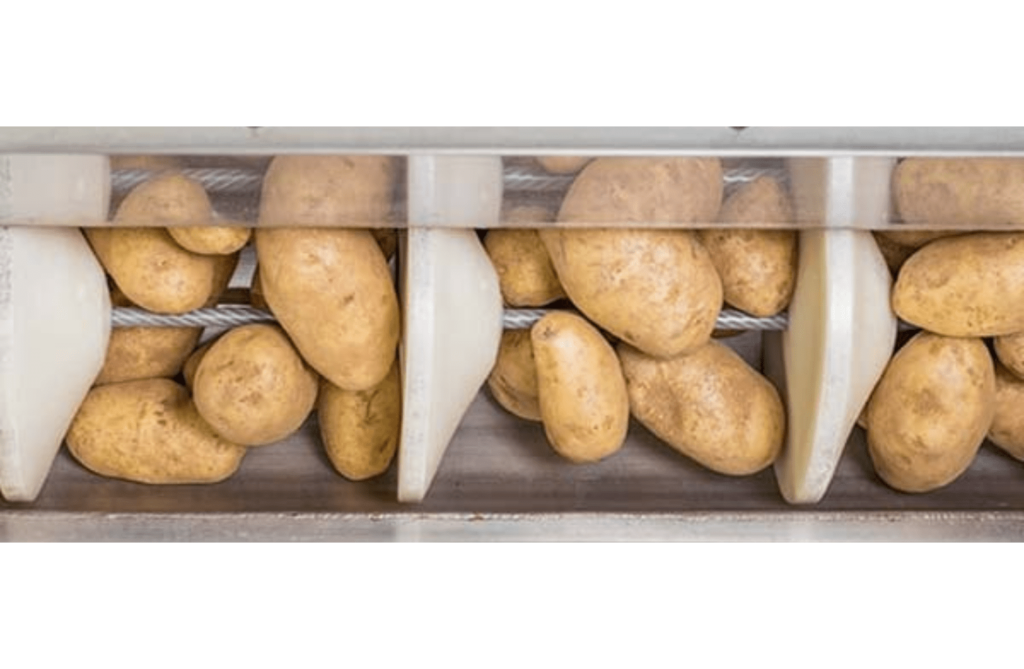 Large diameter systems allow for the conveying of large volumes or large products.  Convey up to 2,000 Ft3/hour or 80,000 lbs/hour.  Enclosed tube conveyors improve plant safety and hygiene by drastically reducing dust while protecting against product contamination.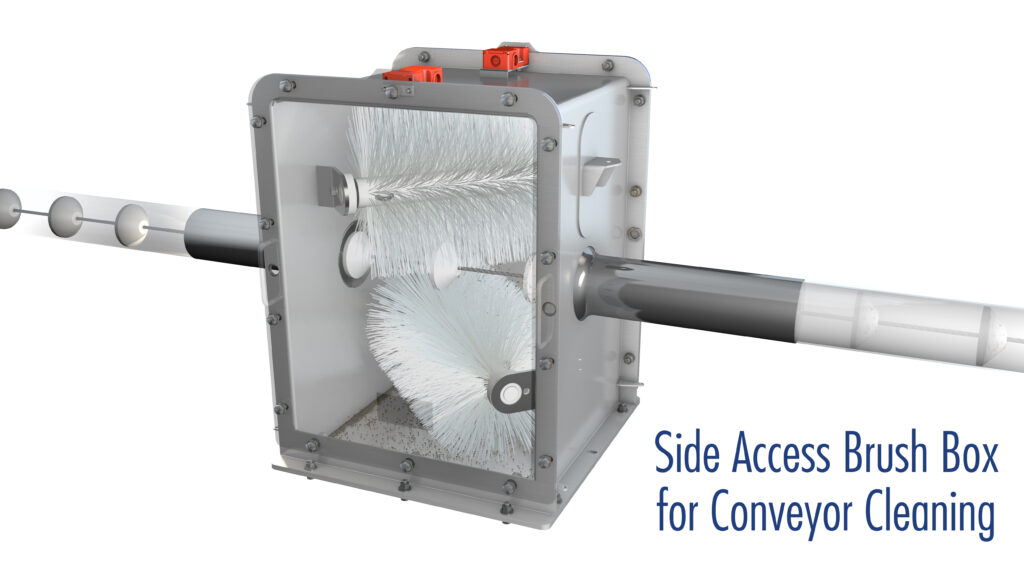 Wet and dry in-tube cleaning options reduce time between changeovers and preserve resources. Clean-in-place methods are also available to improve efficiencies and reduce downtime.  There are different methods offered to clean and sanitize a tubular drag conveyor depending on what material is being conveyed. The material's reaction to water would indicate whether a wet or dry cleaning procedure would be more appropriate.
We provide cost-effective solutions to bulk material handling applications for many markets and industries. Our large number of repeat customers illustrates our commitment to customer satisfaction. Our quality system ensures that your equipment is designed and manufactured to rigid specifications and validated by exceeding performance expectations.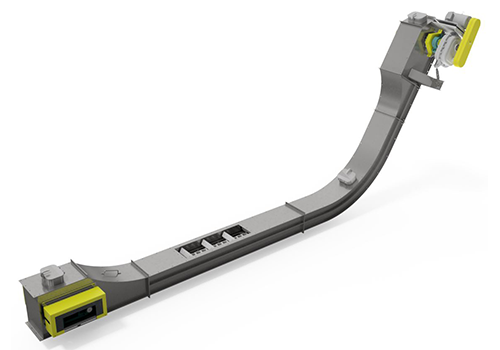 Drag conveyors are a great complement to screw and belt conveyors and a requirement of many bulk material handling applications. Drag conveyors can be used to meter or transfer bulk materials from one process to another. The compact and versatile design allows drag conveyors to fit almost any plant layout.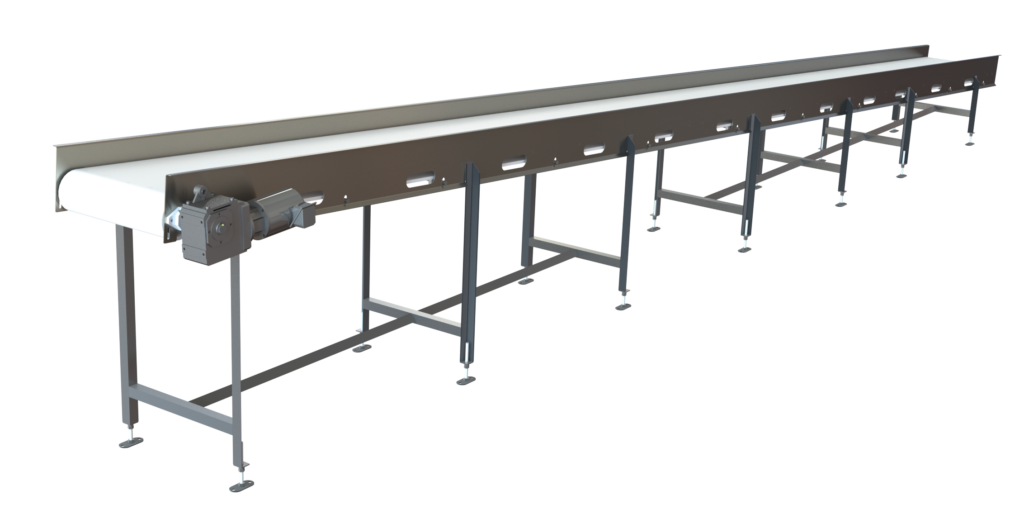 Belt conveyors are the most economical method of transporting bulk materials over both short and long distances. Belt conveyors are ideal for conveying bulk materials of large lump size since the bulk materials stay stationary on the belt. The layout of your plant can be simplified and made more efficient with the use of belt conveyors.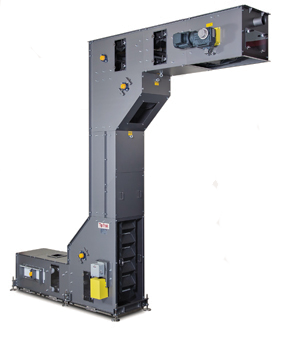 A Bucket Elevator consists of a series of buckets attached to a belt or chain with pulleys or sprockets located at the top and bottom of the unit. The buckets are located in a casing or housing to contain the material. Bulk materials are loaded into each bucket as the bucket moves past an inlet point.
Pneumatic Elbows and Bin Vibrators
Flo-Dynamics offers a range of pneumatic and mechanical conveying components to aid in the flow of materials, longevity, and overall performance of each system.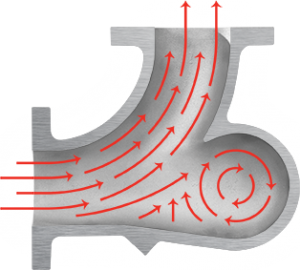 Heavy Duty Pneumatic Elbows
HammerTek Smart Elbows prevent wear and failure when conveying abrasive materials, prevent formation of streamers, and breakage of material. HammerTek elbows last 10x longer than traditional sweeping elbows.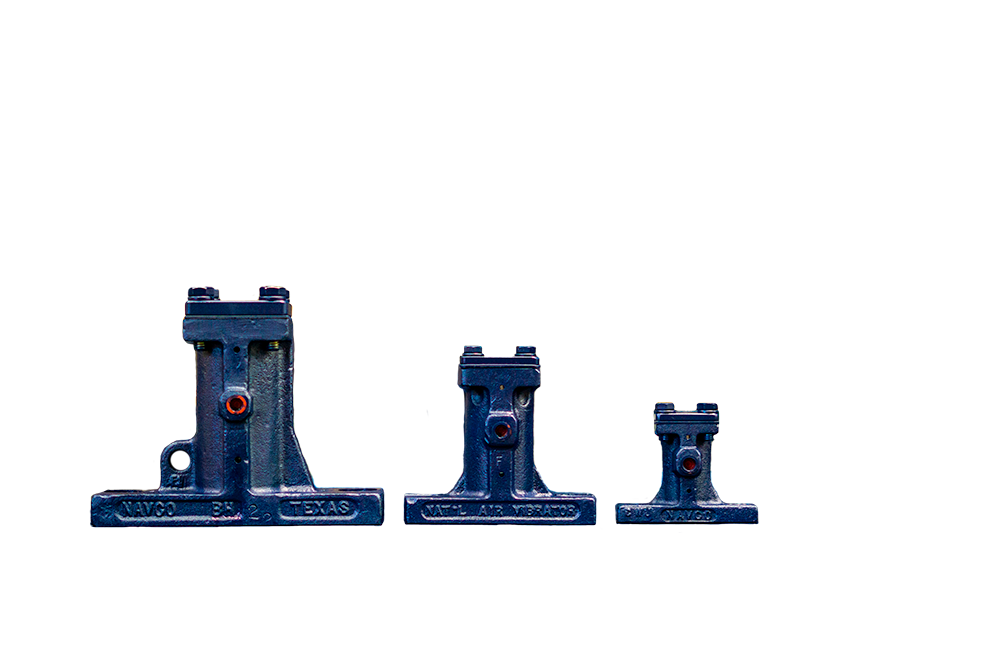 NAVCO® Bin Hopper Vibrators are pneumatic piston vibrators engineered to keep your material flowing no matter where it is housed.  Whether it is material sticking, bridging or rat holing, NAVCO Bin Hopper Vibrators break up the log jam and get your material moving.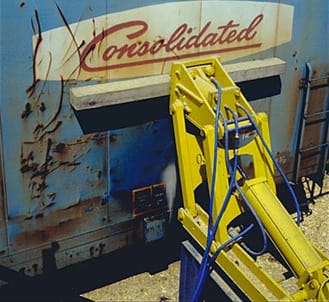 The NAVCO Railside Car Shaker is a permanently mounted vibration system designed to speed the loading and unloading of bulk material from railcars.  The Railside Car Shaker is effective in loosening material from the railcar walls during unloading and in material densification during loading. The Railside Car Shaker facilitates a more "complete cleanout" of the railcar, reducing "carryback" material, and reducing average transportation costs in return.
Conveying and Feeding Resources
Conveying and Feeding Videos
White Papers, Application Notes, & Spec Sheets
White Papers & Guides
Application Notes
Spec Sheets & Brochures