Dry Bulk Storage and Level Sensing
We represent CST Industries, Inc. (CST™), the largest dome and storage tank manufacturer in the world.  We help our customers choose the right type of storage tank, installation method, level sensing techniques, and material loading & unloading systems.
The business roots for CST Industries (CST™) run deep – all the way back to 1893 following our heritage as Columbian Steel Tank Company TM, Peabody TecTank and Columbian TecTank®. With a legacy of 127+ years and over 350,000 field proven installations in more than 125 countries, no other tank manufacturer can match CST's world-renowned brands, premium engineered designs, world-class manufacturing or construction experience.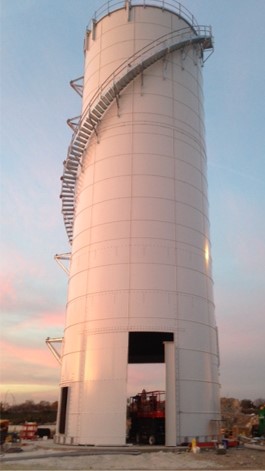 TecTank flat panel tanks and silos offer an optimized bolt pattern, increased steel thickness, reduced hardware and fewer penetration points. The jackable flat panel bolted design of TecTank surpasses competitive designs in the dry bulk industry and is available in short lead time pre-configured models and fully customizable designs.  Fastest construction option for tanks greater than 24 ft. (7.31 m) in height.  Largest capacity, capable of storing up to 200,000 ft3 (5,663 m3) or more.
More resources at bottom of page.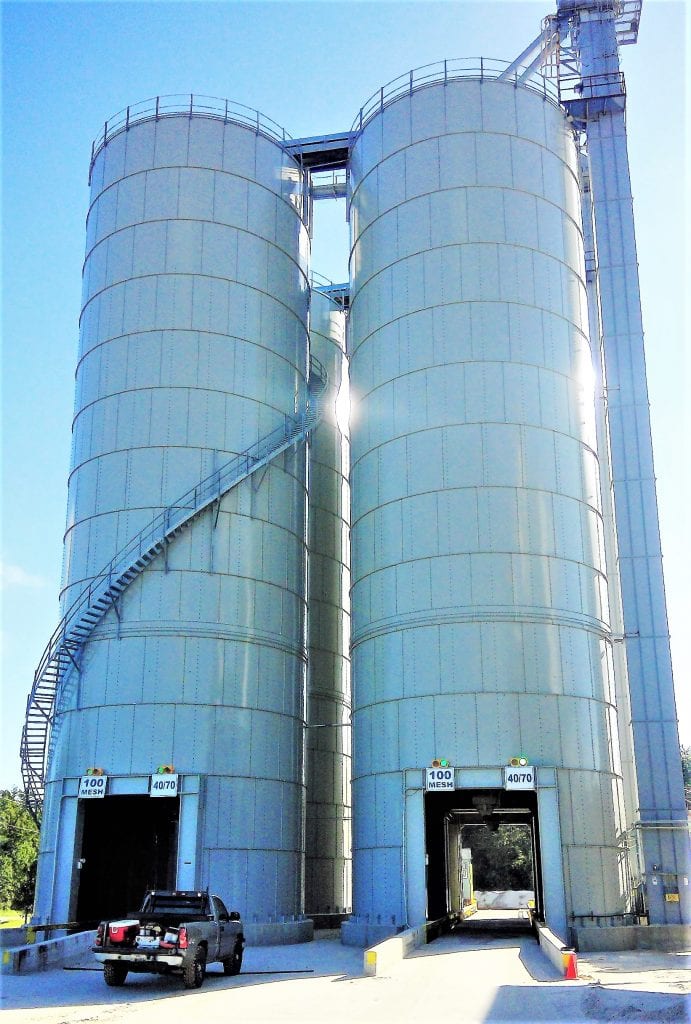 TecTank chime panel tanks and silos offer the best expansion adaptability by adding capacity without full disassembly of your dry bulk tanks. CST's chime panel tanks and silos are field constructed by our expert crews utilizing a scaffold system that is third-party safety certified and stamped by licensed professional engineers. Fastest construction option for tanks 24 ft. (7.31 m) or less in height. Available in capacities from 1,000 ft3 (28 m3) to over 170,000 ft3 (4,814 m3), and diameters from 9 ft. (2.74 m) to 48 ft. (14.63 m) with hopper bottom.
More resources at bottom of page.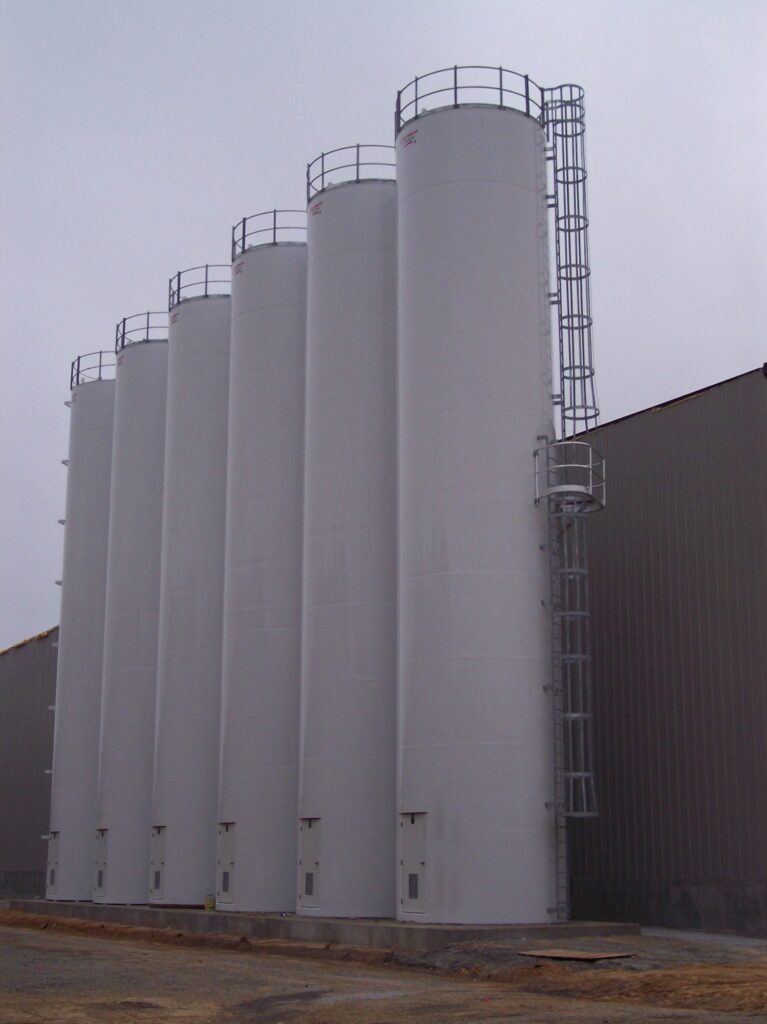 CST's welded tanks can be fabricated from aluminum, carbon steel and stainless steel. Once fabricated the tank is cleaned, coated and force cured in our 90 ft. (27.43 m) long oven on a specially designed, controlled processing line.  Available from 4 ft. (1.21 m) to 15 ft. (4.57 m) in diameter Available heights up to 85 ft. (25.90 m) for carbon steel and 90 ft. (27.43 m) for stainless steel and aluminum in a single piece, larger heights available with splice based on design requirements.  Available in capacities from 400 ft3 (11 m3) to over 14,000 ft3 (396 m3).
More resources at bottom of page.
National Bulk Equipment (NBE) dry bulk material storage systems enable processing operations to efficiently and profitably manage the procurement, transport, storage, and line introduction of bulk dry material assets.  Large-capacity silos, to small-volume mobile storage hoppers; NBE bulk material storage systems ensure optimal use of limited production floorspace.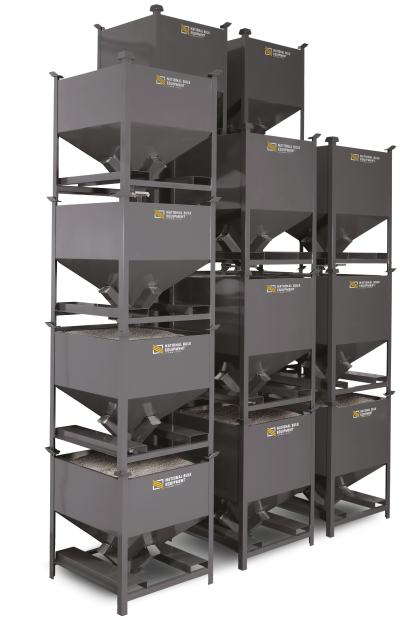 NBE mobile storage hoppers are designed and built to provide a process-critical contribution to material-dependent operations. Whether staging material ahead of a high-volume run, leveraging supply chain variables, or optimizing valuable floorspace; NBE mobile storage hoppers are a versatile alternative to fixed-location conveying systems or high-capacity bulk storage silos.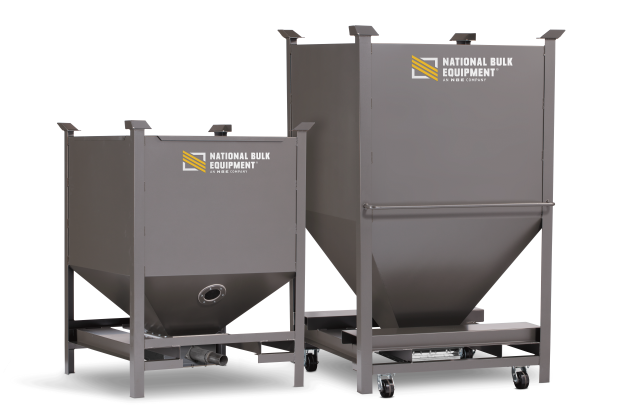 NBE portable surge bins are specifically engineered for production environments where dry bulk material supply must be easily moved, stored, and interfaced with process operations. For material supply requirements from 20 cubic feet of capacity up to 60 cubic feet, NBE portable surge bins enable efficient material management. Multiple mobility features aid in safe handling of NBE portable surge bins; and several standard, optional, or custom application features simplify line integration.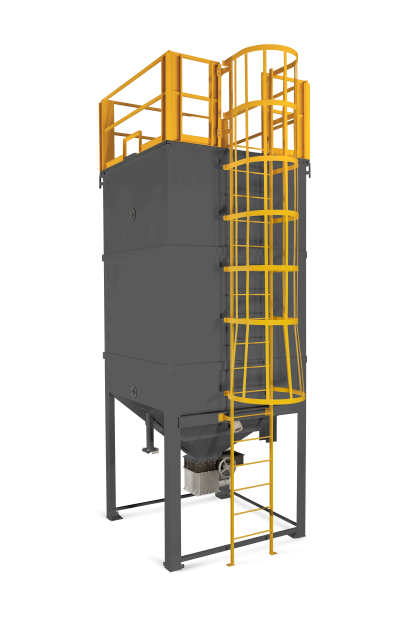 For material supply requirements from 36 cubic feet of capacity up to 572 cubic feet, NBE surge bin systems are specifically engineered to provide processing operations a means of controlled and reliable supply of dry bulk materials into process equipment. If processing applications cannot accommodate the fixed-line conveyor design of pneumatic conveying systems, or when processes require lesser material volume, NBE surge bins enable accurate supply of bulk materials directly into process equipment.
Monitor Technologies provides a wide range of solutions for level indicators and controls, continuous level sensors, inventory management, solids flow monitoring / metering, in-line moisture measurement, dust monitoring / broken bag detection and bin aeration for the storage and processing of powders & bulk solids.  We offer application solutions for a large variety of industries / target materials including (but not limited to): plastics, cement and aggregates, fly ash, coal / power plants, mining, biofuels, feed and grain, food packaging, ingredients, baking & snacks, pet food, pulp and paper, pharmaceuticals, chemicals, and more powders and bulk solids.

Continuous level measurement and inventory monitoring system is a truly robust smart cable-based (weight and cable / plumb bob) bin level sensor system. It is a field-proven approach to reliably monitoring the level of material in bins, silos and tanks. Non-contact radar solutions are also offered.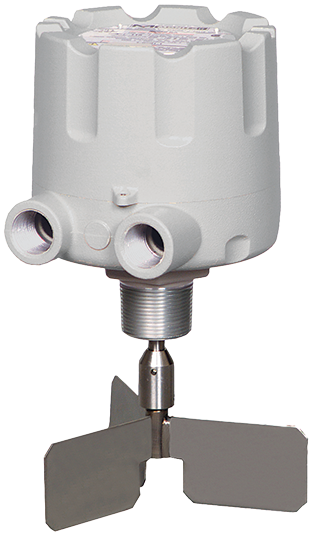 Point levels are commonly designed to to indicate desired high and/or low material levels in bins, silos and other bulk material handling systems. There are a wide variety of styles including paddle, probe, vibratory, or proximity switches.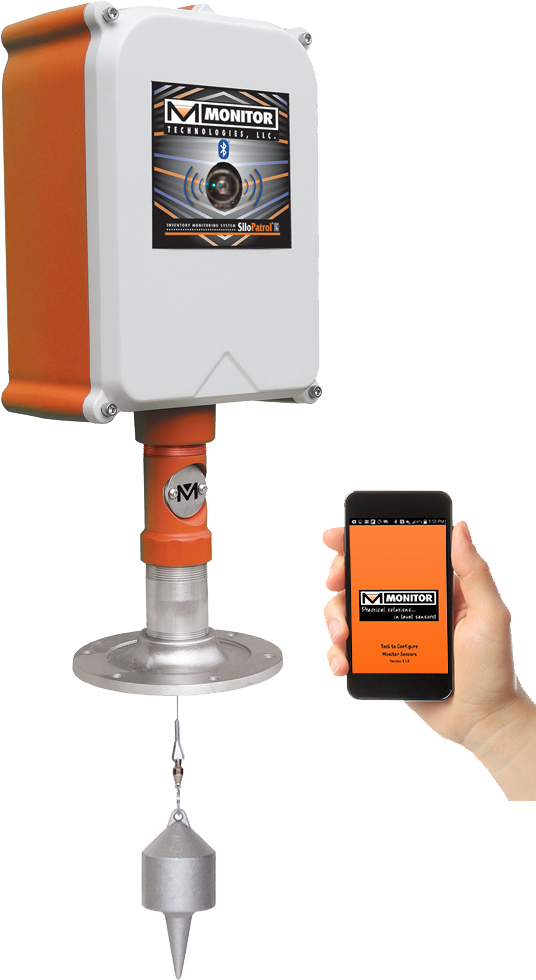 Cloud-Based Silo Inventory Management
SiloTrack Cloud web-based application places inventory management at your fingertips! Securely access bin and silo material inventory data from continuous level sensors using any device with Internet connection. Set level alarms and receive e-mail and text notifications. Create & export configurable reports for accounting purposes and to improve inventory efficiencies. Ideal for Remote Managed Inventory (RMI) and Vendor Managed Inventory (VMI) solutions.
Dry Bulk Storage and Level Sensing Resources
Filling and Discharging Videos
White Papers, Application Notes, & Spec Sheets
White Papers & Guides
Spec Sheets & Brochures