Fill or discharge virtually any powder, pellet or dry bulk material into or out of a wide range of material storage vessels.
Bulk Bag Handling Systems
Our bulk bag and super sack handling systems are designed, engineered, and manufactured to bring optimal effectiveness to processing and packaging operations handling bulk dry material.  Our designs are designed per the customers unique needs including material type, cycle times, conveying methodology, etc.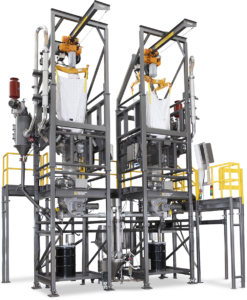 NBE bulk bag discharger systems are designed for rigorous duty in critical applications. They operate on a process-specific, fully welded structural framework chassis; unlike the bolt-together unloader designs typical in the market. The NBE integrated construction and controls infrastructure enables all automation and control functions to be centralized to a single, menu-driven HMI.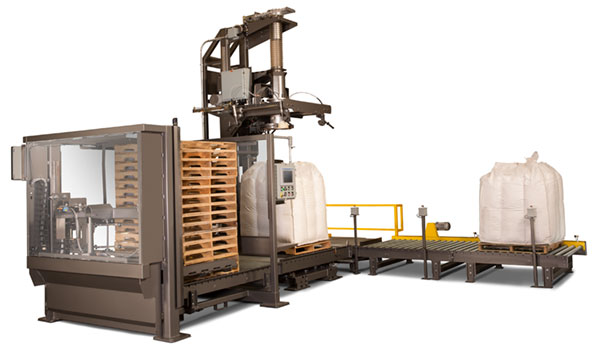 Our bulk bag filler systems are engineered for bulk material processing and bulk material packaging applications requiring high-performance operation; where reliable and repeatable duty cycles, rates, accuracy, and equipment effectiveness are crucial — regardless of process material characteristics. Our integrated construction and controls infrastructure improves operator interaction with the system, provides more comprehensive and actionable performance data, and reduces total cost of ownership.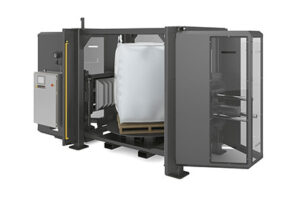 National Bulk Equipment bulk bag conditioner systems are performance-built to bring material conditioning power, in excess of 29,000 pounds of hydraulic force, to material in bulk bags that is too agglomerated and too large to discharge from the bulk bag. NBE bulk bag conditioners are engineered to automatically reduce rock-hard material in the bulk bag to the optimal size necessary to ensure uninterrupted discharge from the bulk bag to integrated, downstream equipment.
Container Handling Systems
Our bulk container filling and discharging systems provide processing operations, from general industrial manufacturing to cGMP-level packaging, the assurance of consistent operating characteristics and repeatable, exacting accuracy.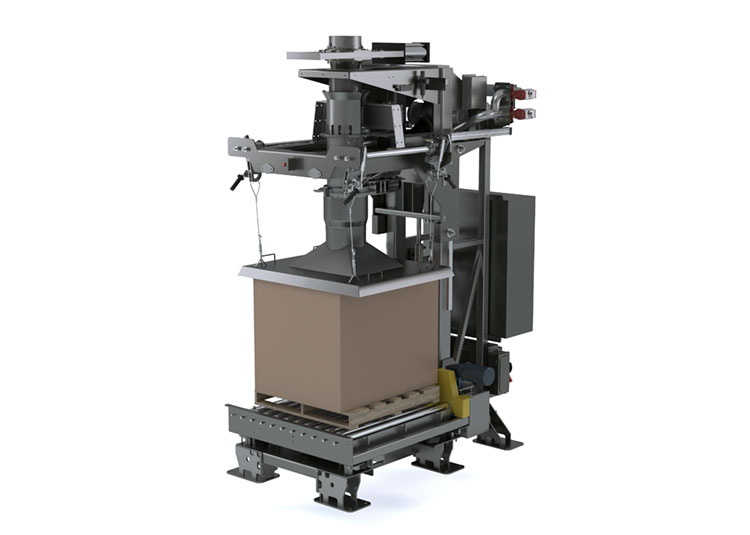 NBE bulk container filler systems leverage their integrated construction and automation infrastructure to ensure production stays running at designed rates, throughput levels, and finished quality targets. The dominant materials of construction and build specifications of NBE bulk container filling systems easily withstand severe operating environments and demanding duty cycles.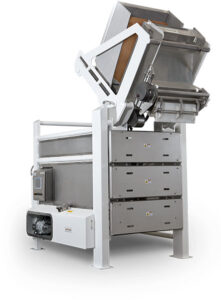 The discharge hood design of each NBE bulk container discharger is specifically engineered to ensure material being unloaded into downstream processes is infed at optimal rates, is protected from introduction of contaminates, and is prevented from creating nuisance dust throughout the facility. Application-specific discharge hood designs may integrate material conditioning systems, material-present sensing, and machine interface configurations custom to downstream equipment.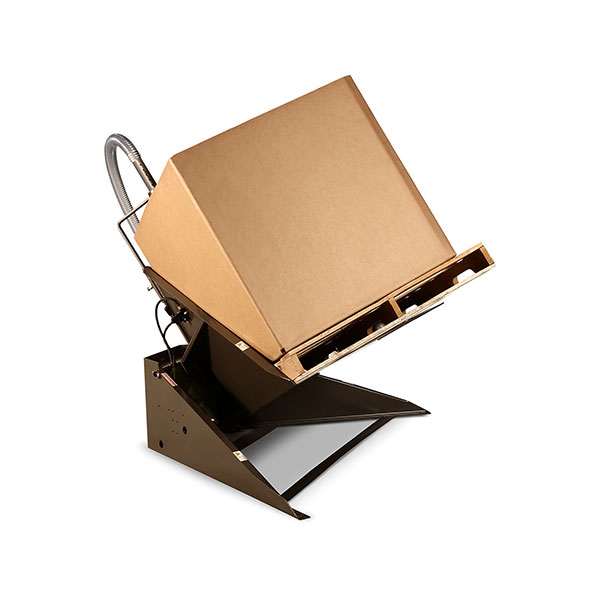 Floor-level container tilters brings improved operator performance and safety to what is often a labor-intensive material handling process.  As material is automatically vacuumed from the bulk container, the automatic tilt action initiates when the container weight and material level reach a pre-set point. During the tilt function, material in the bulk container flows toward the intake of the vacuum wand.
Whether raw materials arrive at your plant in bags, or your final product is packaged and sold in bags, our broad portfolio covers the full range of bag dumping, filling, and handling equipment to meet your application specific needs.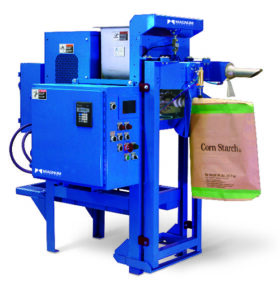 Engineered solutions for open mouth bags, valve bags, or small bags, pouches and containers.   Systems are easily integrated with upstream refill equipment, and downstream belt conveyors, sealers, bag kickers, flatteners, and palletizing equipment.  Our various bag filler designs are accurate to +/- 0.25% of fill weight dependent on material characteristics.  Multiple fill technologies which include auger packing, air packing, impeller packing, vibratory, and net weigh & drop designs.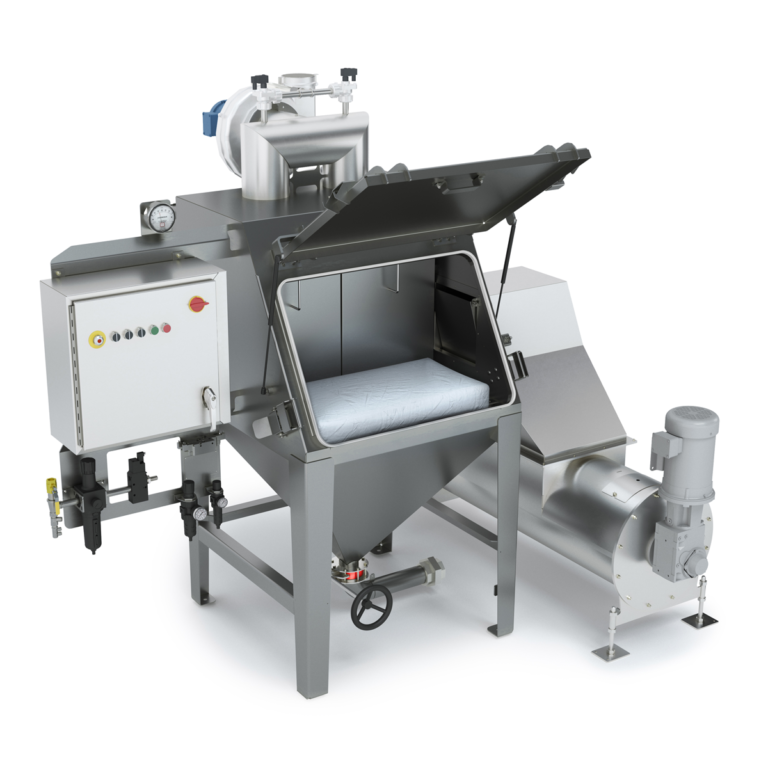 Our bag break stations provide a safe and dust-free material input interface for the manual introduction of dry materials into processing operations. Engineered to ensure peak operator comfort and efficiency, the large and ergonomic operator area and material hopper of our bag break stations easily enables manual dumping of material from bags, pails, totes, and other containers.  Bag break stations are designed to integrate with all types of process equipment, including: material conveyor systems, mixers, hoppers, bins, and size reduction equipment.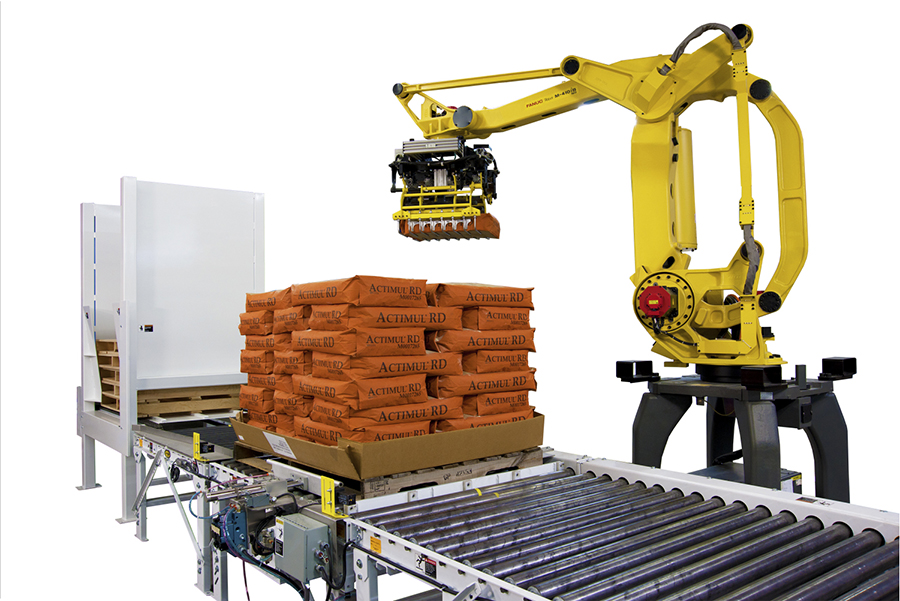 Magnum Systems, through our Taylor Products brand, has remained a leader by combining robotic palletizing with tooling options, efficient programming, and application expertise. Magnum Systems is recognized as an Authorized Integrator of Fanuc Robots for your End of Line Automation needs.
From semi-automatic to fully automatic stretch wrappers, Magnum Systems' applications team will integrate the best stretch wrapper for your facility's operation. With a full line of stretch wrappers, we can reduce the amount of labor needed to wrap safe-to-ship loads, making physical distancing easier, while keeping up with production schedules.
Our customers trust our drum handling systems for dry bulk material processes to be extremely reliable and accurate across filling, discharging, weighing, lidding, and conveying fiber, plastic, or steel drums. These systems are designed for each application, and range from manual and low-budget, to complex, high-rate operations.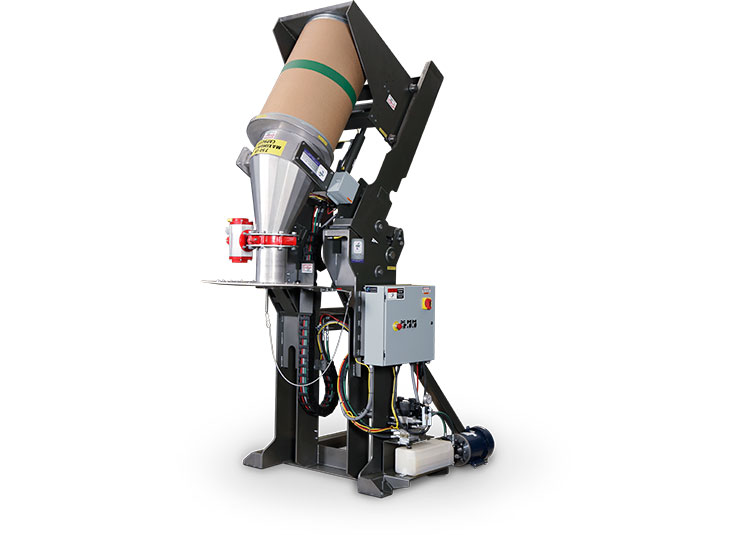 Drum discharger systems provide safe, reliable, and controlled unloading of dry bulk materials from steel, plastic, or fiber drums into processing operations such as material conveyors, size reduction equipment, or bulk storage systems.   NBE drum discharging systems are also engineered to simplify operator interactions with equipment, protect material from contaminants, and control material dusting.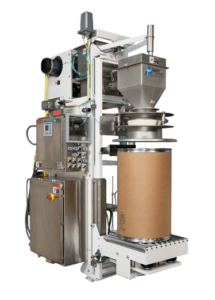 NBE bulk container filler systems leverage their integrated construction and automation infrastructure to ensure production stays running at designed rates, throughput levels, and finished quality targets. The dominant materials of construction and build specifications of NBE bulk container filling systems easily withstand severe operating environments and demanding duty cycles.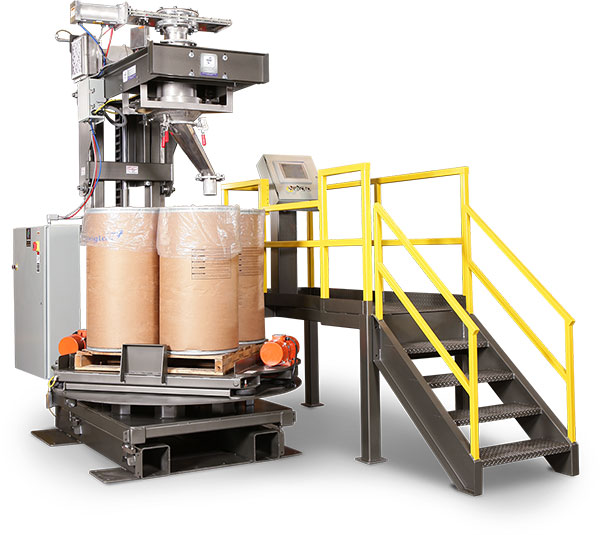 Four-post fillhead support framework designs are engineered by NBE for drum filling applications with low to medium fill rate requirements. The build specifications of an NBE four-post fillhead support framework are determined by the process requirements of each application. NBE fillhead support framework configurations, dust control systems, framework height adjustment methods, and other drum filling features are designed to ensure safe, accurate dry material processing and packaging.
National Bulk Equipment product reclaim and recovery systems provide automated and controlled removal and recovery of dry or wet contents from packaging. Off-spec, mislabeled, over-run, or otherwise unsalable product is recovered for possible re-use or resale. Recovered packaging is collected for proper recycling or disposal. NBE product reclaim and recovery systems enable processing and production operations to eliminate or reduce material loss, improve sustainability performance metrics, and protect product and company brand reputation.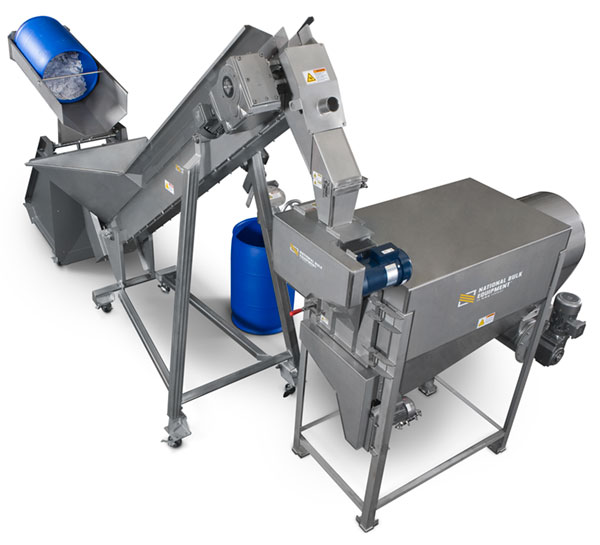 Single-Packed Product Reclaim
NBE single-pack reclamation systems recover packaged contents and packaging material from unsalable production output. Regardless of the single-pack type, its packaging material, or the packaged contents, every NBE single-pack reclamation system is engineered to the particular performance requirements and build specifications of each application. Packaged contents and its packaging material are recovered, product loss is reduced, and total process effectiveness is improved.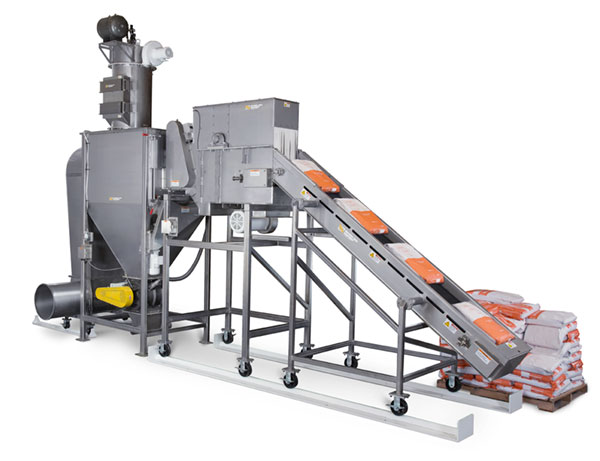 Palletized Bagged Product Reclaim
NBE multiwall bag product reclaim systems provide safe, efficient recovery and separation of contents and packaging from off-spec, mis-labeled, or overrun production packaged in multiwall bags. From 5-pound bags to 50-pound bags or larger; from 100 bags per hour to 1,000 bags per hour or more; from free-flowing contents to challenging materials, NBE engineered-to-application project execution will ensure optimal product and package recovery performance.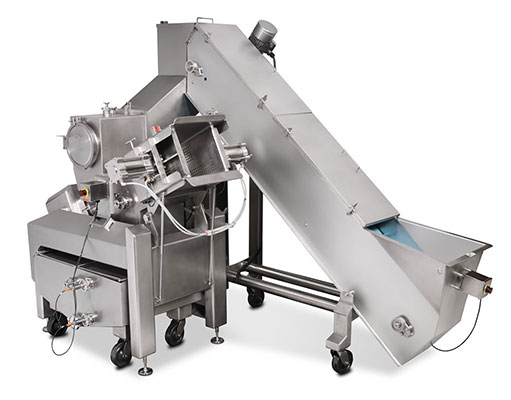 Packaged Liquid Product Reclaim
NBE reclaim systems for the recovery of packaged-liquid product and its packaging material provide brand owners and contract packagers a safe, controlled, and sanitary process for reducing product loss and packaging waste from unsalable packaged liquids. The NBE engineered-to-application project execution process assesses the full recovery sequence, including liquid flow properties and package recyclability, to ensure optimal recovery process effectiveness.
Filling and Discharging Resources
White Papers, Application Notes, & Spec Sheets
White Papers & Guides
Application Notes
Spec Sheets & Brochures
White Papers & Guides
Application Notes
Spec Sheets & Brochures